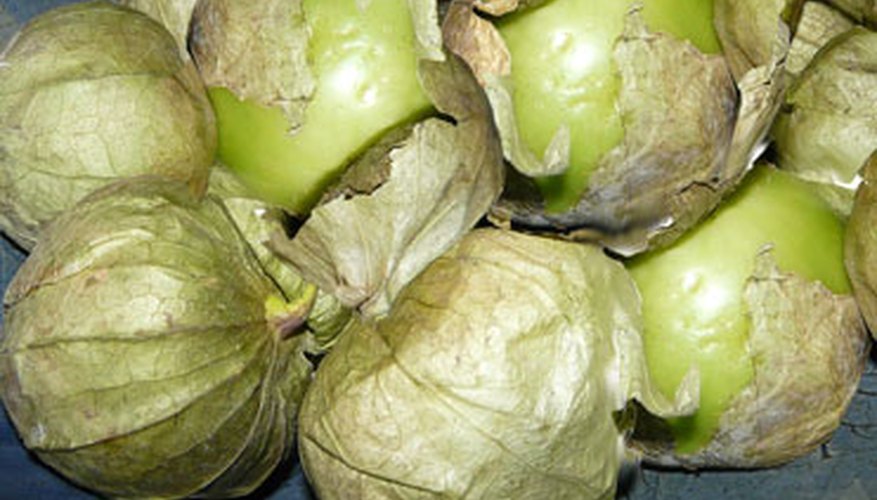 Tomatillos are used in Mexican and Latin American dishes like salsa verde and guacamole. They are distantly related to tomatoes and are grown in a similar way. The big challenge to a gardener is finding a source of tomatillo plants. If you cannot find transplants, then growing tomatillos from seed is your only option. Mature tomatillos are the size of golf balls, light green to yellow in color, with a papery wrapper that is removed before cooking or eating.
Getting the tomatillo seedling is as simple as purchasing a transplant at your local nursery or as complicated as growing it indoors from seed. If starting your seeds indoors, the easiest way is to use peat pots and prepared soil mix. Place the seeds into the mix, moisten and cover. After the seed has germinated and put on its first leaves, remove cover and grow to about 2 to 3 inches. Then harden off before transplanting into the garden. Purdue University Horticulture Extension provides detailed instructions to help grow transplants from seeds.
Transplant the tomatillo plant into a sunny location with well-drained soil after all danger of frost is past. The plant will grow fairly tall and should be staked or given cage support. A neutral soil pH is desirable. Light fertilization with high nitrogen, slow-release fertilizer works well for tomatillos. Only add phosphorous if your local soil does not have a residual from previous gardening. Space the plants about 3 feet apart to allow spread and air flow.
Water deeply once or twice a week in the heat of summer if there has been no rainfall. Tomatillos are somewhat tolerant about moisture, but do not like drought conditions. Use mulch around the plant to help keep the soil moist.
Harvest tomatillos when the paper shell around the plant begins to dry, turns brown, and breaks away easily from the fruit—about 100 days.