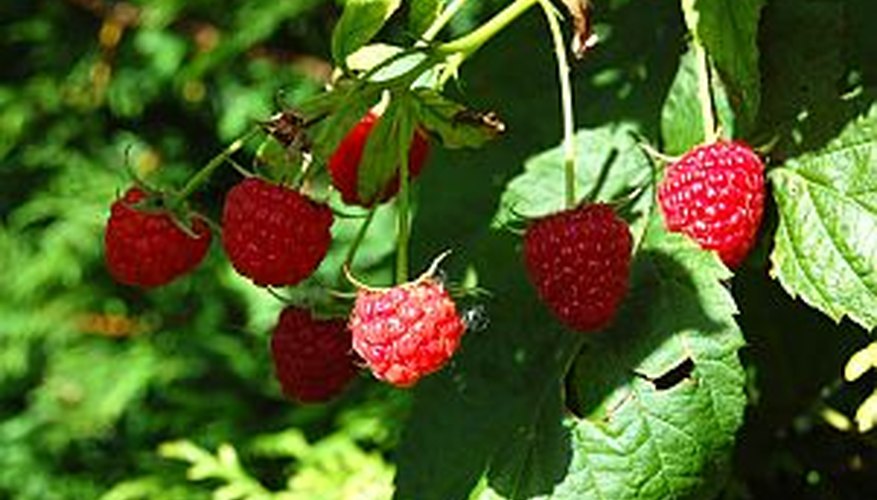 Raspberries are a delicious fruit that is easy to grow. While fresh raspberries are often expensive due to the extreme fragility of these berries, growing your own berries is surprisingly affordable. Once the canes establish themselves in a sunny growing area, they will continue to produce a bountiful raspberry crop year after year. Some raspberry varieties produce two crops of berries each summer while others produce only one.
Maintain the raspberry canes carefully to ensure a bountiful raspberry harvest. During the first growing season, keep weeds pulled around the new canes. After preventing weeds throughout the first growing season, place between 4 and 8 inches of mulch around the raspberry canes. Keep this mulch in place throughout the entire year. Make sure the raspberries receive regular water during the fruiting period in the summer. Decrease watering in the late summer and early fall, however.
Support raspberry canes with a trellis or fence if they do not stand erect by themselves. Prune your raspberry canes according to the specific kind of raspberry you are growing. The summer-bearing raspberries grow raspberry canes during the first growing season, produce berries on these canes the second growing season and then these canes die back. As this cycle continues, remove the old canes to keep the raspberry plants properly thinned.
Watch for the berries to develop after the blossoms appear. Wear gloves, and pick raspberries when they are a deep red or black color (depending upon the variety) and are no longer glossy. Ripe berries pull easily from the vines. Check for ripe berries every day or every other day during the peak of the season.
Watch for a second berry harvest with ever-bearing varieties, and harvest in the same fashion.
Keep unwashed raspberries in the refrigerator, and use as soon as possible. Prepare raspberries for freezing by washing the berries and spreading them out on a baking sheet in a single layer. Place the baking sheet into the freezer, and freeze until the berries are solidly frozen. Remove from the freezer and place in plastic freezer bags. Frozen berries keep up to one year in the freezer.