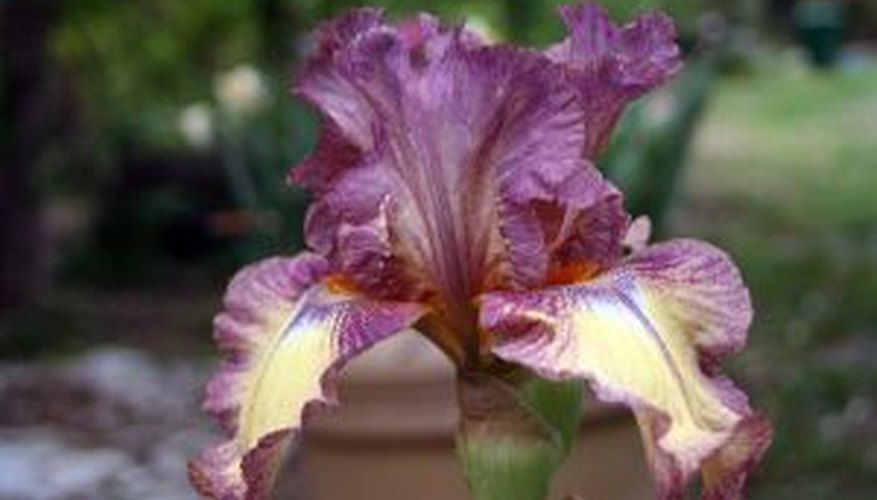 Low maintenance irises are prized for their easy care and large, eye-catching blooms. Every spring iris shoots appear with the promise of flowers in early summer. Most years after the blooms fade, minimal care is required to ensure next year's show—until it comes time to divide the bulbs. Iris bulbs, actually rhizomes, must be divided every three to five years for best health and blooming. This is a chance to expand the iris bed while weeding out the bulbs that are diseased or no longer producing.
Prepare to divide your iris clumps eight weeks after the blooms have faded completely. Divide in the morning while the weather is still cool and the soil hasn't dried out completely.
Loosen the soil around the rhizomes with a spade or garden fork. Dig around the rhizomes to avoid bruising or damaging them. Place the spade under the clump and turn it out of the soil.
Brush off or lightly rinse the excess soil from the rhizomes. Inspect them for signs of disease such as soft spots or damaged areas.
Examine the clump for where you plan to cut them apart. Plan for two to three leaves and some roots to be present on each rhizome you plant. Save rhizomes from the outside of the cluster and discard those in the center.
Cut apart the rhizomes in the areas you decided. Use the end of your spade or a sharp knife.
Work compost into the planting bed and pull out any weeds before replanting. Prepare new beds if you are spreading the iris to other parts of the garden.
Plant the rhizomes root side down so the top is at the soil surface. Water lightly then cut the leaves back to a third of their previous height.
Things You Will Need
Spade

Garden fork

Knife

Compost
Tips
Water irises deeply but only once a month when there is no natural rainfall.

Cut back the flower stalks after blooming so nutrients go to the rhizomes for next year's production.
Warning
Don't allow the bed to dry completely after replanting but avoid overwatering which will cause the rhizomes to rot.
References