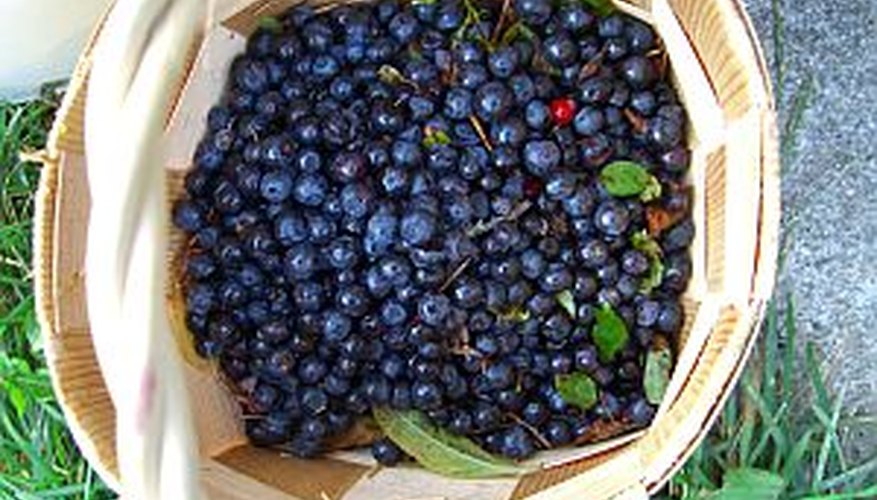 Blueberries grow abundantly in home gardens with highly acidic soils. Once gardeners amend the soil for maximum blueberry growth, they can anticipate a bountiful harvest. Select a blueberry variety that is appropriate for your climate for best results. When your blueberries will ripen and be ready for harvest all depends on the variety of blueberries you grow. Some blueberries ripen in early summer and others do not ripen until the end of the summer.
Tend the blueberry bushes carefully during the growing season. Once you have achieved the proper pH balance required for healthy blueberry plants, maintain the pH of your soil by adding fresh compost every spring. Place approximately 4 inches of compost around the blueberry bushes in the spring to help the soil stay moist and prevent weeds. If weeds appear, pull them carefully to avoid damaging the shallow blueberry roots. Keep blueberry plants watered generously throughout the growing season.
Cover the blueberry bushes with netting prior to the berries ripening to prevent birds from eating the berries before you pick them. Some gardeners erect a wooden frame with netting stretched across the top and hanging down the sides. Place the netting frames over the blueberry bushes, then remove the nets to pick the berries. Replace the frames when you are finished picking.
Watch for the blueberries to ripen on the bushes that are at least three years old. Harvest according to the variety of your blueberry bushes. Leave highbush blueberries on the bushes for approximately one week after they develop a deep, blue color. Leave rabbiteye blueberries on the bushes for approximately 10 days after they ripen.
Harvest blueberries by testing them first. Hold a bucket underneath a bunch of blueberries. Use your hand to ruffle the blueberries gently. Ripe blueberries will easily detach from the stems without much encouragement. Leave other berries that do not easily detach and try these berries again in one or two days.
Check for ripe blueberries every day over a period of approximately one month.
Things You Will Need
Blueberry bushes

Compost

Netting

Bucket
References