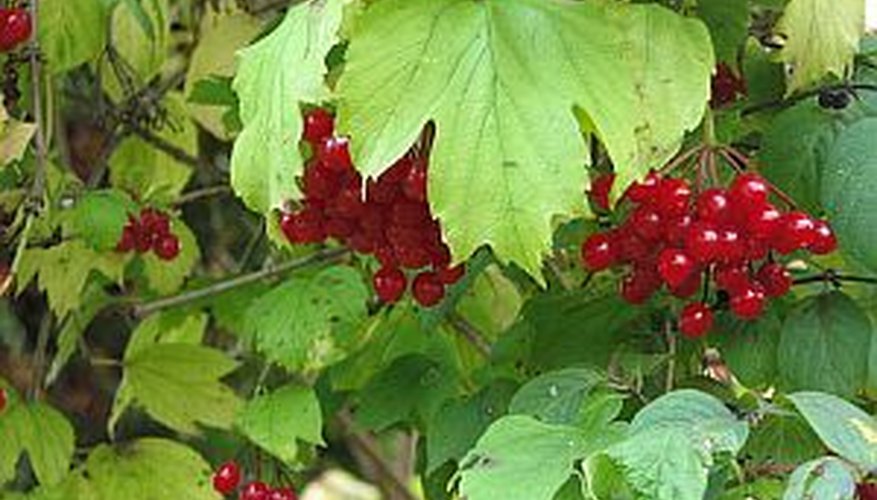 The American cranberry bush (also called the highbush cranberry) is misunderstood and gardeners often scoff the small red berries growing abundantly on these sizable bushes. Many people consider these cousins of the Elderberry to be far too tart to be of any use in the kitchen. Others enjoy harvesting these red cranberries when they are at their peak of maturity for use in jams, jellies, juices and just eating raw. When the summer wanes and the highbush cranberries turn bright red, harvest these berries to see if you like them.
Watch the cranberry bush in late summer and early fall to determine when the berries have ripened. The berries will turn red when they are ready to harvest. For the best flavor, harvest as soon after ripening as possible. Harvest cranberry bush berries at any time, but waiting until the leaves fall will result in smaller and less flavorful berries.
Pick the berries from the branches of the bush. They grow in clusters and release easily from the cranberry bush. There are no thorns on the stems or branches of the bush. One large cranberry bush may yield as much as one gallon of berries at the height of maturity.
Eat the crunchy cranberries fresh immediately or freeze the berries to extract the juice. Place the berries in the freezer until they are hard and then place them on the counter at room temperature to thaw. The resulting berries will be juicy and ready to crush for jam or juice. Crush the berries carefully with a pestle and strain out the seeds and pulp to use as desired.