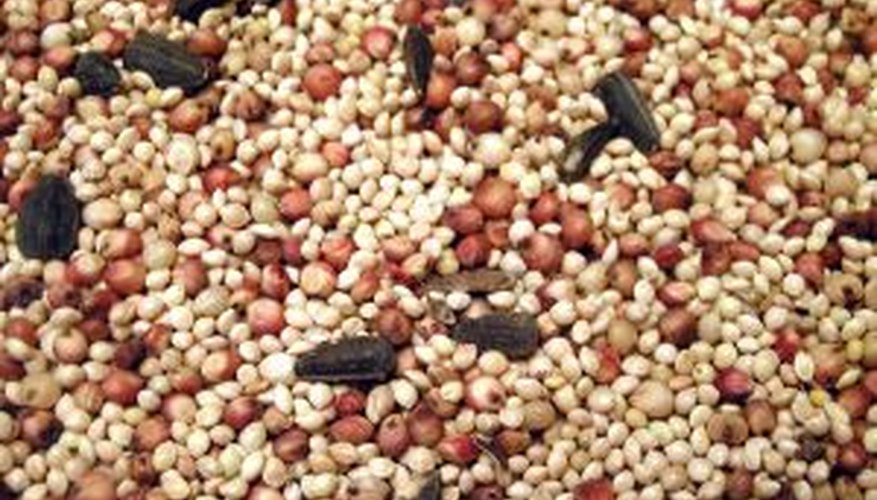 Invite birds into your garden by placing bird seed outside for them. Feeders are most visited in the winter when few natural food sources are available. Replace expensive feeders with easy to make bird seed balls. Bird seed balls are created entirely from seed and other items birds eat, then hung from strong cord or wire. Hang them from tree branches well above ground where predators such as cats won't surprise the birds while they are feeding.
Melt ½ pound of beef duet in a saucepan or the microwave. Heat just until melted but not bubbling.
Mix in 1 cup of creamy style peanut butter and 2 cups of cornmeal. Stir until a stiff dough forms then place in the refrigerator for 1 hour.
Cut a 12-inch length from sturdy wire or cord. Make a 1-inch loop on one end of the wire or tie a large double knot on the end of the cord.
Take 2 handfuls of the suet mixture and form into a ball around the loop or knot. Form it so the loop is in the center of the ball.
Pour the bird seed mixture into a shallow pan. Roll the ball in the seed until it is completely coated.
Create a hook on one end of the wire to hang from a tree branch. Or, tie the other end of the cord around the branch.
Things You Will Need
Suet

Sauce pan

Spoon

Peanut butter

Corn meal

Bird seed

Pan

Wire or cord
Tips
Mix a handful or two of seed with the suet mixture before chilling.

Dip pine cones in the mixture and coat with seeds instead of making balls.
Warning
Do not hang the birdseed balls where they may touch the house, as the fat in the suet may leave permanent stains on painted surfaces.
References