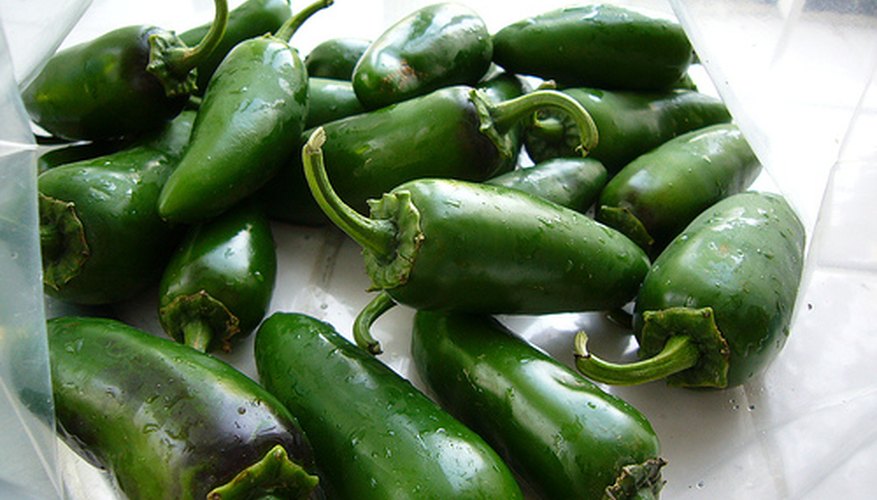 Jalapeno peppers are a hot, spicy pepper that is high in vitamins and minerals. Jalapenos are a good source of vitamin C, vitamin A, potassium, folic acid and fiber. Peppers are usually easy vegetables to grow when they are provided with adequate water and sunlight. Each pepper plant will produce around 25 to 35 plants per season. Once your peppers have matured, they will store for several days in the refrigerator or you can freeze them for later use.
Growing Jalapeno Peppers
Start your pepper plants indoors to ensure healthy plants. For spring peppers you will want to plant from March to April. Plant fall peppers from July to August. Plant the seeds in a 6- to 8-inch pot. Place the seeds into the potting soil and cover with approximately 1/4 inch of soil. Your seeds will thrive with temperatures that are around 80 degrees so place your seeds in a bright, sunny location while they are growing. Give your seeds plenty of water when they are growing. Jalapeno plants need a lot of water as they are maturing.
Get the soil ready that you intend to transplant your seedlings into. The best ph for your jalapeno's is around 6.5. Soil that has a pH of less than 7 is said to be acidic. The acidic soil will give your peppers flavor. Fertilize the soil with a good 15-15-15 fertilizer. The ratios will be printed on the outside bag of the fertilizer.
Transplant your seedlings into the soil when they are well established or have reached a height of 4 to 6 inches. Cover the roots completely into the soil. The plants should be planted approximately 1 1/2 to 2 feet apart in each rows. Space your rows 14 to 18 inches apart to allow room for the jalapeno plants to grow.
Keep your jalapeno plants watered, especially during the dry months. After your first peppers appear you will want to fertilize the soil again. Do not allow your pepper plants to become dry or it will kill the developing peppers.
Jalapeno peppers are usually harvested from June to October. They usually take 2 to 3 months to ripen. Ripe jalapeno peppers are usually 3 to 4 inches long and are deep green in color. The peppers will be firm and will break from the plant very easily.
Things You Will Need
Jalapeno pepper seeds

15-15-15 fertilizer

Hoe
Tip
Cover your peppers at night if the temperature drops below 55 degrees. Low temperatures will cause your peppers to grow very slowly.