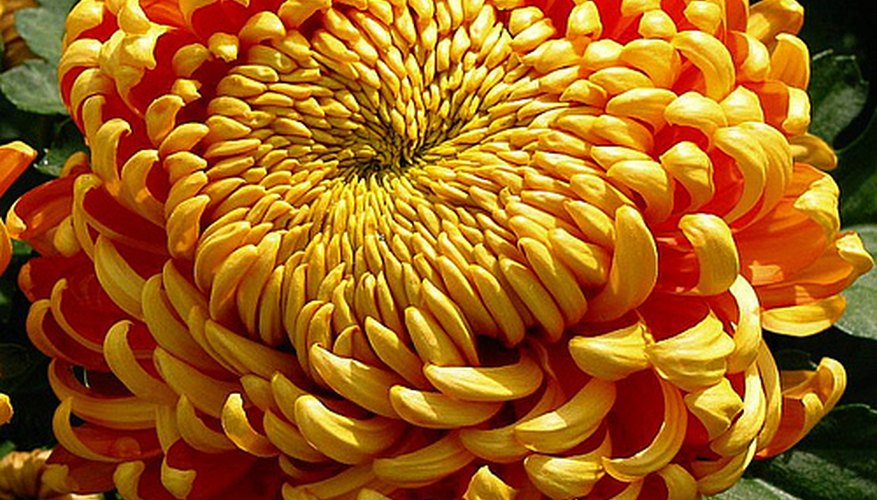 Chrysanthemums (Chrysanthemum morifolium) come in white, yellow, orange, red and lavender. They are propagated from seeds, stem cuttings and plant division. You can also purchase plants directly from a nursery. Make sure plants purchased from the nursery have few-to-no dead leaves or branches and have been well watered. Also check the potting soil for signs of mildew or fungus.
Choose a garden spot that is shallow and gets full sun. Add fertilizer and compost to the soil in the garden bed. Mix the fertilizer and compost thoroughly into the soil. Make sure the soil is loose and drains well.
Dig shallow holes that are 18 to 24 inches apart. The holes should be no deeper than six inches. Place each plant into a hole and cover loosely with soil. Do not add any more soil than the plant had in its nursery pot. Add organic mulch around the base of each plant. Soak the soil using a gentle spray from the hose to avoid washing soil and mulch away from the base of the plant
Fertilize once per month using a low-nitrogen fertilizer. Water with a sprinkler when the soil begins to dry. Pinch new top shoots to keep the plants compact and avoid blocking sunlight to lower stems and leaves.
Cut plants to two inches above the ground in the fall. Cover with three to four inches of mulch to overwinter them. Uncover the plants in early spring and water lightly to encourage new growth.