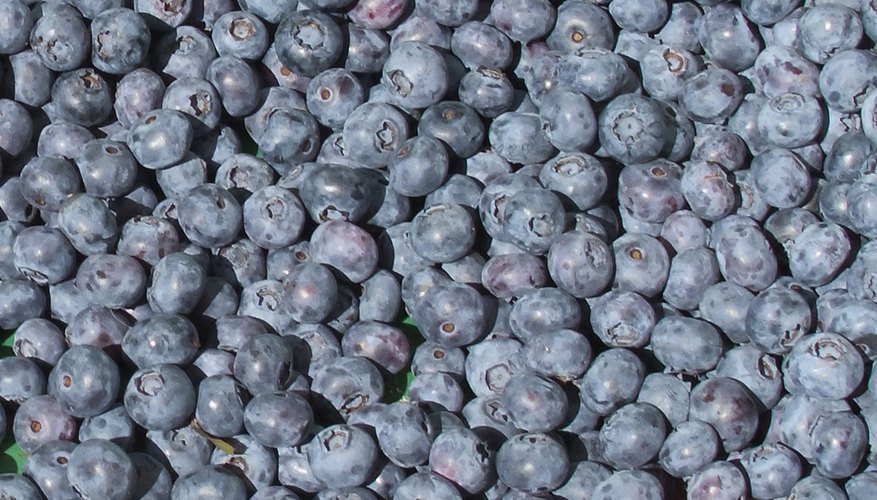 Growing highbush blueberries is a very satisfying experience. These plants not only provide you tasty delicious fruits for a long time, but they are a beautiful, striking, deciduous shrub as well. The highbush blueberry is a long-lived perennial that can last for several decades, reach heights of 5 to 9 feet, produce pink or white flowers in the spring and provide multihued foliage in the fall. However, to grow highbush blueberries requires the correct soil preparation long ahead of the actual planting. This can be costly and time consuming, but the results are worth it.
Select an area with full sun and away from trees. Choose a site that has good air circulation. This should be done one year prior to actual planting for best results.
Create raised beds. (See Resources below.) Use enough room to allow for 4 to 5 feet in between plants and 8 to 10 feet between rows. Make beds 1 to 1 ½ feet high and at least 3 feet wide.
Test the pH of the soil with a test kit. The soil must be between 4.5 and 5.5 for the best growing condition. Changing the level of the pH requires over 6 months of time. (See Oregon State University in References for information on correcting the pH levels.) Test soil again 6 months prior to planting.
Use a shovel to spread sawdust over the planting area. Add enough for 3 ½ inches in depth and 3 feet wide. Cultivate this into the soil using a rototiller or hoe.
Buy container-grown highbush blueberries that are healthy and 2 years old. Use a trustworthy source to ensure good quality plants. Planting should be done in October, March or April.
Use shovel to dig holes slightly deeper than container height and width. The bushes need to be planted ¾ of an inch deeper than containers height.
Carefully remove plants from containers, and place them in the holes. Use the shovel to add the removed soil around the plants as needed. Wearing gloves, push firmly on the soil to prevent air pockets.
Water the plants thoroughly following planting. Use pruning shears to get rid of 30 to 40 percent of branches and any flower buds. Use a shovel to apply 2 to 3 inches of Douglas-fir sawdust around the planted bushes for mulch.
Fertilize the plants in April and again in the beginning of June or at the end of July. Add the fertilizer uniformly within 1 to 1½ feet of every plant but not directly on any parts of it.
Water the plants, if needed, to provide at least 1 inch of water per week until fall. Inspect soil regularly for sufficient moisture prior to watering.