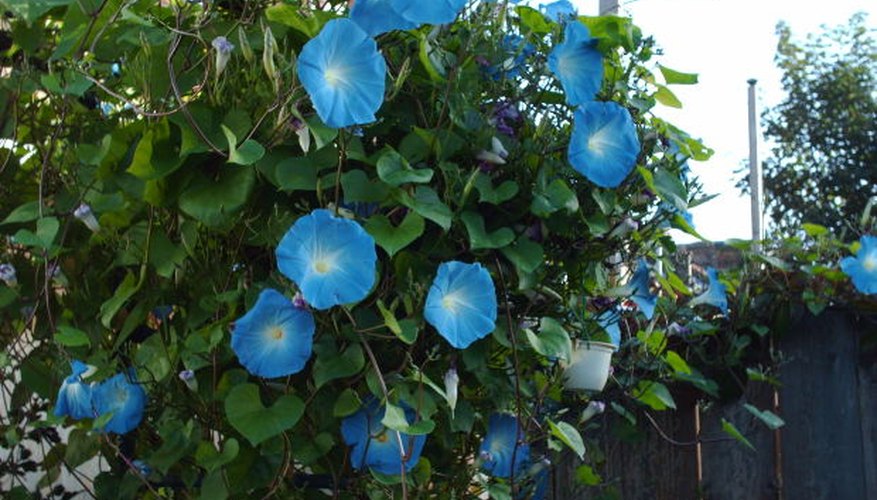 The delicate beauty of morning glory flowers brings out something romantic and simple as the vines climb up trellises, downspouts and fence posts. While the morning glory will drop seeds for itself so a new plant can grow again the next year, you can also harvest fresh morning glory seeds for next year's growing season. While the process of harvesting morning glory seeds isn't difficult, walk your garden every couple of days to look for signs they are ready.
Watch your morning glory plants for flowering, and check old flowering points for small, pea-size bulges at the end of the steps. Wait until the seedpod has turned dry and brown before you consider harvesting.
Select the dried seedpod you wish to harvest, and hold your bowl underneath it. With clean hands, gently squeeze the pod to open it and let the dark seeds fall into the bowl.
Check the pod to make sure all of the seeds have been removed. The seeds and the hulls of the pods will end up in the bowl together. Continue to squeeze pods, and collect all of the seeds you wish or feel you need for replanting.
Wait for a breezy day to spread a trash bag out on a flat surface, and anchor it around the sides to the ground with rocks. Pour your seeds and hulls into one of the pie pans, and set the other pan on the center of the trash bag.
Toss the seeds in the air gently, holding the pie pan about a foot over the other pan. The wind should blow the hulls away but allow the heavier seeds to fall into the second pan. Toss the seeds again as needed, and continue until all you have in the pan is seeds.
Store your seeds in a seed envelope, and label the envelope with the type of seeds inside, the color of the flowers and the date harvests. Seeds generally keep for three to five years if stored in a cool, dry location.