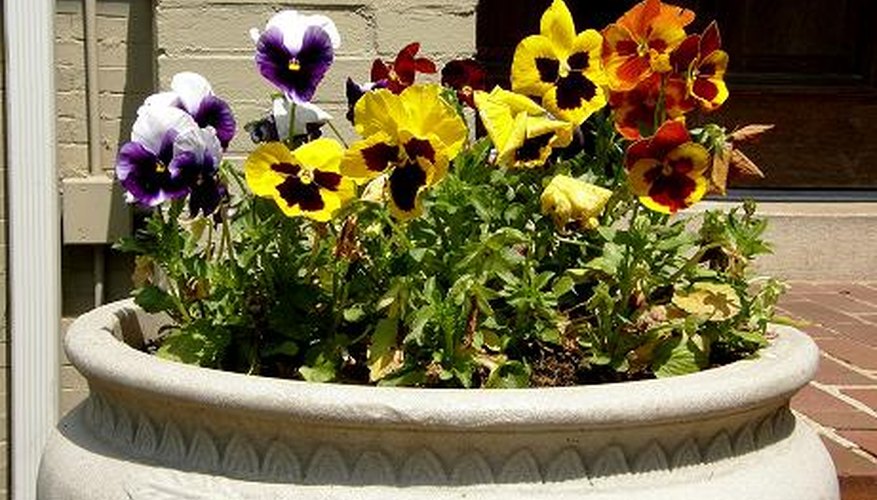 Assess the way you use your patio, and build a garden strategy around that. Since there is no natural soil on the patio, your garden will be in pots, flower boxes, hanging baskets or other containers filled with fertile potting mix. Because you will be using containers, you can rearrange the plants for different occasions. It is an easy task to replace a spent plant, and you can update your garden as seasonal plants change.
Measure and Plan
Measure your patio and draw a scale sketch. Include the adjoining house walls, windows, and yard area immediately surrounding the patio. Make some extra copies of this basic sketch so you can draw different ideas for your patio.
Decide if you have room for permanent plants along the edge of the patio or whether all of your garden will be in containers. Permanent plants might be shrubs, trellis plantings, or tall plants that would create a living privacy screen. Large container plants also create a walled effect, or try using a shelf divider filled with plants to make a living wall that can easily be revamped anytime. Simply shift or replace potted plants on the shelves to refresh the look.
Measure for furniture placement on the patio area, and mark your design sheet sketch. Then visualize the empty corners and floor space areas where you will have room for plant containers. Consider the traffic pattern, and allow plenty of walking space. Place your garden containers so they are easily accessible for watering and plant care. If you will incorporate a grill and dining area into your patio design, use some of your patio garden for culinary herbs. Herbs also lend fragrance to the patio.
Besides sketching the floor plan of your patio garden, remember vertical spaces, too. A row of hanging baskets contributes elements of color and texture without taking up floor space. Small planters can be used on tables and storage cabinets to add splashes of color.
Select flowers and plants to suit the atmosphere you want to create. Bold, bright colors will give your patio garden a feeling of energy. For a quiet place to unwind, pastel colors and lush greenery lend a relaxing, peaceful mood. Look through garden catalogs and magazines for ideas you can incorporate into your patio garden design. A small bubbling water fountain, wind chimes, bird feeders and other accessories add to the ambiance.
Evaluate your patio lighting needs. If bright outside lights are already in place, you may wish to install decorative accent lighting, perhaps some soft up-lighting. Solar garden lights are very effective, and they have simple wireless installation. Solar light photocell panels do access to sunlight to recharge.
Take your patio sketch with you to the nursery, and select plants with size and sunlight requirements that fit your needs. If your patio garden is a place where children or pets will play, make sure that none of the plants you select are toxic.