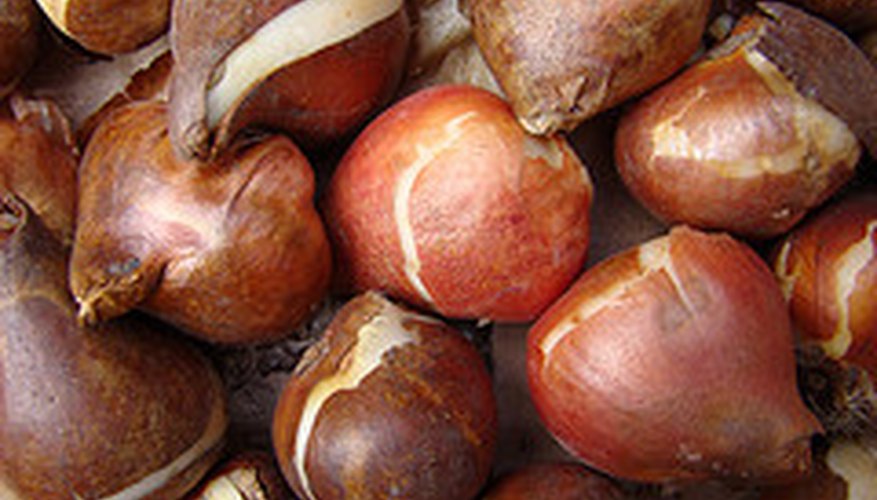 Tulip bulbs are usually kept in the ground. However, in very cold winter climate areas, they need to be dug up and stored. The chore of digging them up and then re-planting them seems a bit ominous, but when you see that first bright color in your yard next spring, it will have been worth the effort.
Clean your tulip bulbs by brushing dirt and debris off of them. Do not wash them or introduce any water to them at this time, as this could cause them to rot over winter.
Choose a container that can breathe for storage. Do not use a plastic storage box or other plastic container. A cardboard box is perfect.
Place a sheet of newspaper on the bottom of the cardboard box. Spread a layer of your tulip bulbs onto the newspaper.
Place a sheet of newspaper over the first layer of tulip bulbs. Layer another set of tulip bulbs on top. Continue this layering process until all of your bulbs are in the storage box. Finish with a sheet of newspaper over the last layer of tulip bulbs.
Put the storage box in a cool, dry location. The bulbs should be in a place that protects from the freezing temperature outdoors. Make sure they are not in a location where rodents might find them to be a tasty, winter treat.
When planting your tulip bulbs, make sure they are in a sunny location. From the sun, they store energy to produce the following year's blooms. As blooms die, remove them about three inches from the top. This will conserve the bulb's energy for next spring.
Things You Will Need
Tulip bulbs

Cardboard box

Newspaper
References