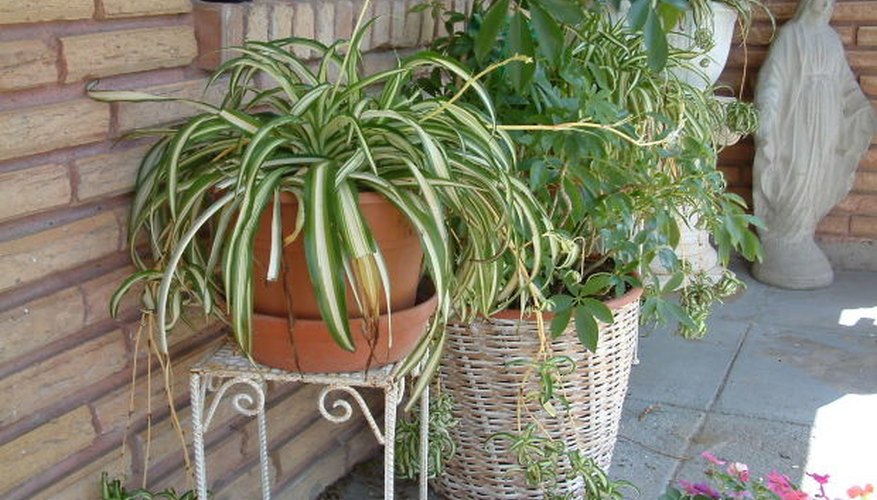 Trimming potted plants keeps them in shape and promotes healthy new growth along the stems and from the base of the plant. Not only does this create an attractive plant, it encourages the plant to produce strong stalks and reduces the chances of stalks breaking in the wind or from breezes from open windows. With an eye for overall appearance and an understanding of the normal shape of the plant, you can keep your potted plants healthy and strong by trimming them regularly.
Consider the overall shape of the plant in its natural state before trimming to maintain shape. When plants become overgrown, follow the basic shape of the plant by trimming any stems that extend beyond the desired shape. Tender houseplants can be trimmed by pinching between the thumb and forefinger, while woody plants might require garden shears or a sharp knife.
Remove any dead or diseased stalks. Cut away overgrown woody stalks to encourage fresh new growth of lush foliage. If the entire plant has become woody and lacks luster, trimming back to 4 to 6 inches revitalizes the plant. Although it will be unattractive for a short period, a flush of new growth will soon produce lush foliage.
Pinch out center leaves to encourage side shoots and new growth from the base of the plant. This creates a compact plant with dense foliage able to withstand the weight of blooms or stress from winds.
Check the plant often for any signs of overgrown stems and foliage and maintain a regular schedule of trimming to keep it in prime condition. Plants generally require more pruning from spring to fall, but those moved inside during the winter often benefit from a severe pruning in the fall.