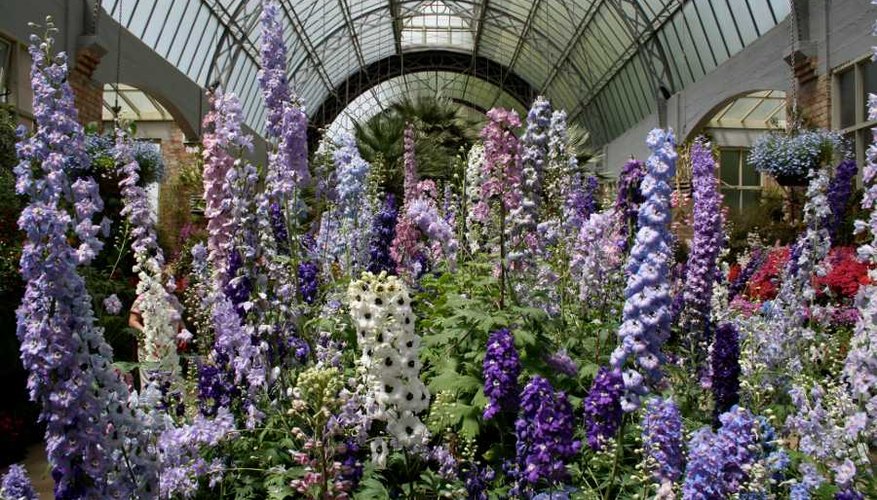 Indoor gardens can be wonderful, year-round areas to grow plants and flowers that may not survive winter where you live. Indoor gardens are limited primarily by the space you can dedicate to gardening. Smaller spaces will easily support smaller plants. Larger spaces can easily support potted trees and bushes. If you have a greenhouse or large glassed-in area, plants can be layered using taller pots for larger plants and smaller pots for smaller plants.
Decide on a location for your indoor garden. Southern-facing areas are ideal, but any area that gets good light is a good starting location.
Arrange your empty pots in the indoor gardening area to ensure good use of space. Be conscious of light requirements. Some plants don't like bright light. If they are shorter plants, you can put them under taller plants with more leaves. If you are planting primarily plants that like light, arrange them so taller plants don't shade shorter plants.
Write the type of plant to be placed in each pot on the bottom of the pots to facilitate later planting. If you are using long pots for multiple plants, write the name of the plant in its position on the bottom to avoid getting plants in the wrong order.
Take your pots to your potting area. Outdoor potting areas are better, but any easily cleaned area will work. Kitchens and bathrooms are good for potting.
Mix about 4 parts potting soil to 1 part odorless compost or other organic fertilizer. For larger pots, the soil and compost can be mixed in the pot. For smaller pots, mix the soil and compost in a bucket and then transfer the soil to the pots.
Place a plant and root ball in a pot and fill the bottom of the pot with enough of the potting soil and compost mixture to support the plant at the desired level in the pot. Place the soil and compost mixture around the sides of the root ball until the ball is covered and the pot is full.
Tamp down the soil a bit with your fingers to simulate the settling that will occur with watering. You may need to add a bit of soil over time to compensate for soil settling.
Repeat Steps 6 and 7 with each plant. Some people prefer to do the larger pots first and then move on to the smaller pots to avoid fatigue.
Arrange the plants in your indoor garden area. Place your pots on saucers to catch draining water. Different plants need different amounts of water at different intervals. For smaller gardens with smaller pots, you can write the watering schedule with a waterproof marker on the bottom of the pot. For larger, more complex gardens or gardens with larger pots, make a map of the garden and number each pot. You can then make a watering schedule for each plant in your garden.