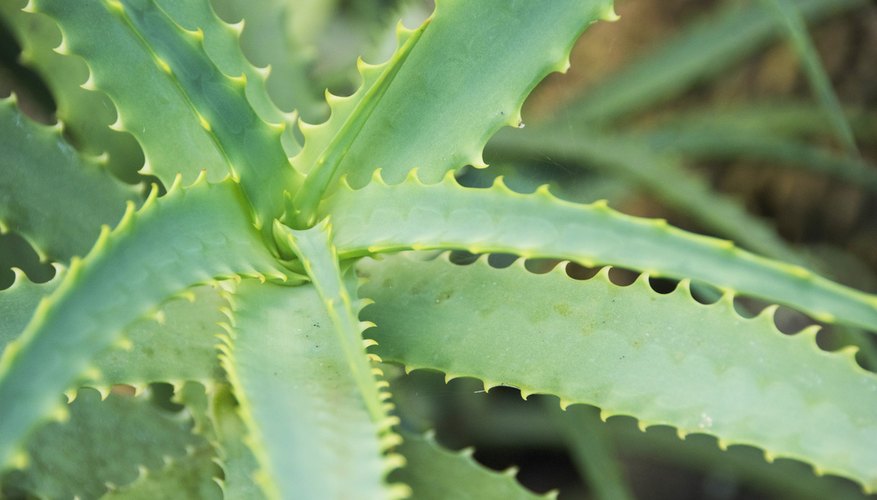 The gel of the aloe vera plant has been used to effectively soothe and heal minor burns, wounds and even skin infections for thousands of years. It also possesses antiseptic properties, which is highly beneficial for healing of the skin. And it's practically legendary for its ability to soothe the miserable pain of sunburn, and for its skin moisturizing qualities. Most people who own the plants just cut a small piece from a leaf and squeeze the gel directly onto an affected area. But they're getting a lot of the plant's sap mixed in with that gel, which reduces its strength. Proper extraction of the gel-like "fillet" found deep within each leaf renders the plant's purest and most potent medicine.
Cut a large, healthy leaf from the aloe vera plant at a slight angle with a sharp knife. Choose an outer leaf at the base of the plant, close to the ground. If there aren't any leaves located near the soil surface, then the plant is too immature to produce the maximum health benefits you seek.
Set the leaf almost upright in a bowl immediately after cutting it and let it set for about 15 minutes to drain the yellow sap from it. This sap is used only as an ingredient in commercially prepared laxatives, and offers no benefits for topical applications. Including it in your extraction will only serve to dilute the gel.
Use a sharp knife to cut the spiked edges from each side of the leaf, including the skin, exposing the gel beneath. Peel the rind from either the front or back of the leaf, also exposing the gel. A vegetable parer works very well for this.
Lay the aloe leaf flat and use a spoon to gently scoop out the clear, slimy, gelatinous pulp or "fillet." Don't scrape too vigorously to avoid pulling up pieces of the rind and any remaining sap.
Refrigerate the aloe vera gel in a glass jar with a tight fitting lid. The pulp will remain viable for up to a year when properly stored.