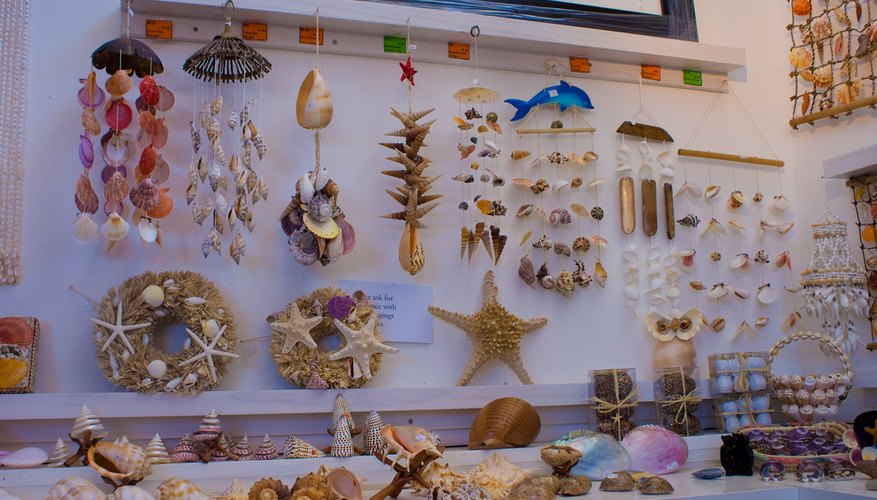 Wind chimes come is interesting sizes and shapes. There are no rules when creating your own wind chime. One way to make a perfect wind chime is to create one that will have special memories attached to it. Next time you are on a special outing, pick up a few items that will bring back memories of a happy time. For example, the next time you are at the seashore pick up a few pieces of interesting driftwood and seashells.
Wash your pieces of driftwood and seashells in warm soapy water. Lay them out on a towel to dry overnight.
Drill one hole through the top of the large piece of driftwood. Drill two holes through the bottom of this piece of driftwood.
Gently drill a hole in the top of each seashell and small driftwood pieces. Do not force the drill bit through the shells since this will break them. Go slowly in order to wear a hole through the shell.
Thread your 12-inch piece of ribbon through the top hole. Place your ribbon ends together and tie them in a knot. This is the hanger for your wind chime.
Thread your 24-inch pieces of ribbon through the other two holes. Line the ends up then tie a knot in each end near the piece of driftwood. This prevents the ribbon from sliding out of the holes.
Thread a seashell onto one of the ribbons. Tie the seashell on. Do the same to the other ribbons. Make sure that the seashells line up with each other so they can hit each other when the wind chime moves. Space the rest of the seashells evenly out on the ribbons.
Threat one of the small pieces of driftwood onto a ribbon. Tie a knot at the end. Finish the rest of the wind chime with a small piece of driftwood on each end of the ribbons.
Glue your birds to the large piece of driftwood with hot glue. Hang in sheltered area in your garden.