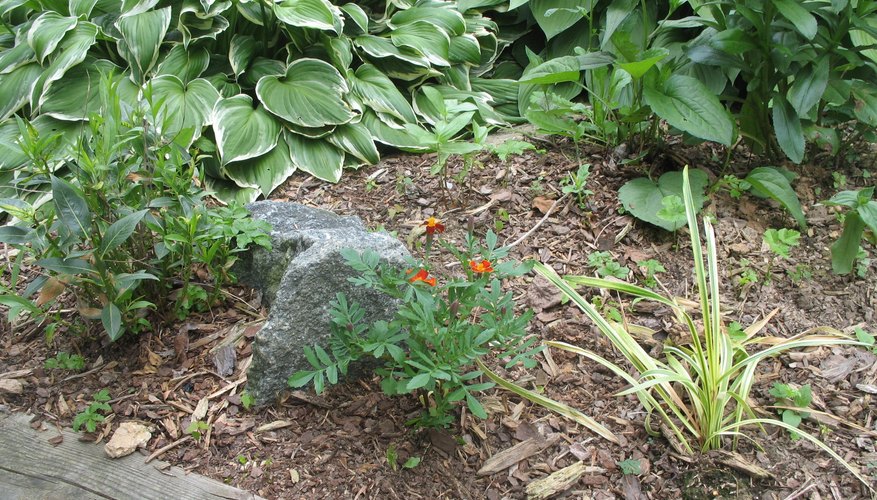 Perennial gardens offer enthusiasts the option of creating an outdoor décor that includes plants that return every year. This type of garden tends to require less maintenance than annual gardens. Perennials come in a wide variety of colors, styles and sizes. Learning how to design a perennial garden involves planning which plants work best for your area and using your garden space to maximum benefit. Here's how to create a garden that will bloom year after year.
Determine where you want to place your perennial garden. Some perennials can tolerate full sun, while others require a shadier area for growing. Check the light availability in your chosen area to determine what plants will do best there.
Lay out your garden by arranging a garden hose or string into the desired shape. Imagine this delineated area filled with beautiful flowering plants. Adjust the shape as needed until it meets your approval. Measure the dimensions of the garden.
Draw the permanent features of your property onto the graph paper, including the house, driveway, deck, patio, sidewalks and existing trees, shrubs and gardens. Try to work to scale as much as possible to allow you to visualize how your perennial garden will fit into the landscape.
Add the garden to your scale drawing. This will help you determine the placement of your plants as well as the quantity to purchase.
Investigate which plants work best in your area, and keep a list of those plants that appeal to you the most. Visit a local nursery and check out the display of perennials available. Garden centers sell plants that grow best in your climate. Perennial choices range from ornamental grasses to flowering plants that attract butterflies and hummingbirds.
Choose a variety of plants to create a garden that blooms continually throughout the growing season. Each plant is labeled with a full description of bloom time, height, and watering and light needs. Design your garden around a few base plants such as ornamental grasses, and include plants that bloom in succession to have abundant flowers.
Settle on your plant selection and transfer this information to your graph paper. Remember that plants need plenty of space to allow for freely flowing air in order to thrive. Space potential perennials to allow for room for expansion on your landscape diagram. Create a shopping list of plants as well as soil conditioner, mulch and any additives recommended by the nursery.