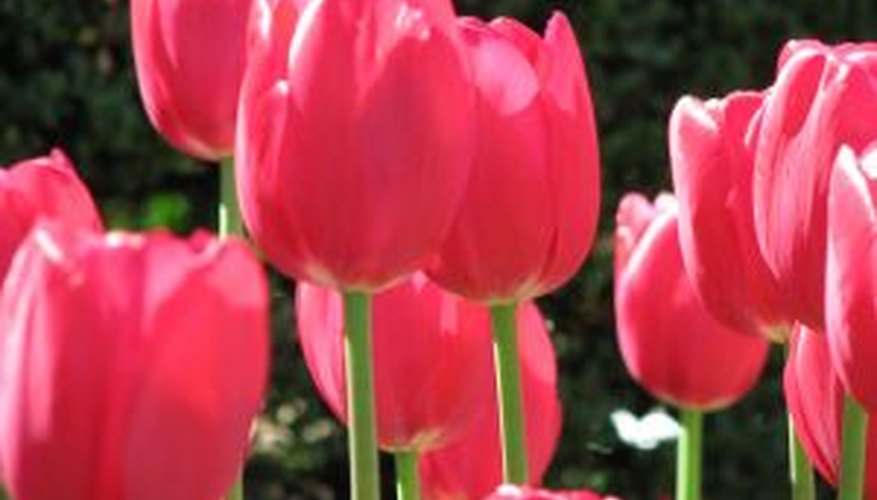 Tulips add bright color to your spring and early summer garden with their distinctive cup-shaped flowers. If your tulips aren't growing well it may be time to transplant them to a more suitable section of your garden. Tulips prefer well drained soil and plenty of sunlight. Deer and other pests are also a problem; they dig up and eat the tulip bulbs. Transplant the bulbs to a protected area of your garden such as within a fence to help save your bulbs from these pests.
Place garden markers in the soil near the tulips shortly after blooming. Avoid hitting the bulbs with the marker. This will lead to cuts or bruises that cause the bulb to rot.
Dig up the bulb when the leaves yellow and die back naturally. Dig carefully around the bulbs so you don't hit them with your trowel, or lever a garden fork under the bulbs and lift them to the surface.
Store the bulbs in a cool, dry place until you replant them. Plant tulips approximately 6 weeks before the first fall freeze.
Choose the new planting area. Pick an area with full sun that drains well. Build up the soil in poor drainage areas 2 to 3 inches by working in compost.
Dig planting holes to a depth of 3 times the width of the bulb. Place the bulb in the hole pointed side up and root side down. Cover the bulb with soil.
Keep the soil moist but not soaking wet until the first fall freeze. Resume watering in the spring once shoots appear.
Things You Will Need
Trowel

Garden markers

Compost
Tip
Transplant bulbs in early summer immediately after blooming. Some bulbs may die if you dig them up too soon.
Warning
Don't fertilize until after the next blooming period. Apply a bulb fertilizer on top the tulip bed before the leaves die off again.
References