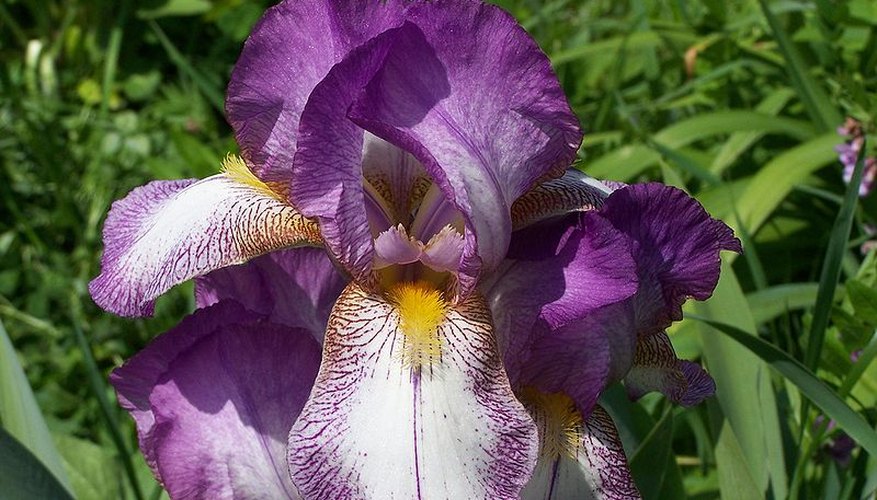 There are occasions when you absolutely must store iris rhizomes out of the ground soil. Often this is because of the need to overwinter or you are caught in the middle of relocation. A few key preparations and close monitoring throughout the storage interval will ensure that your iris rhizomes will come out of storage safely and prepared for planting and future bloom.
Prepare the iris rhizomes for storage by carefully digging them up and brushing off any excess soil and inspecting for damage or diseased rhizomes. Discard any rhizomes that appear compromised to prevent the spread of disease in the storage container.
Select a storage container that is shallow or has openings for ventilation. Choose a container that is capable of holding all of your iris rhizomes in just a few layers with storage material in between. If you have a large amount of rhizomes, multiple containers will be needed.
Fill the storage container with clean sand, slightly damp peat moss and fine wood chips or shavings. Nestle the rhizomes in your storage material of choice so that they are covered over at least three-quarters of the way, if not entirely. Do not seal the storage container.
Place the rhizomes in a cool, dim location with good fresh air circulation. Aim for a consistent ambient temperature of around 50 degrees F.
Monitor the rhizomes while in storage to ensure that they are not drying out and have not begun to rot. If they seem to be desiccating, mist the storage medium lightly with water. If any rhizomes are rotting, discard them along with any medium that was in immediate contact with them.
Things You Will Need
Clean sand

Sphagnum peat moss

Wood shavings

Shallow container or box

Ground sulfur
Tip
As an extra precaution against rot and insect damage, you can dust the rhizomes lightly with ground sulfur from your garden supply store.