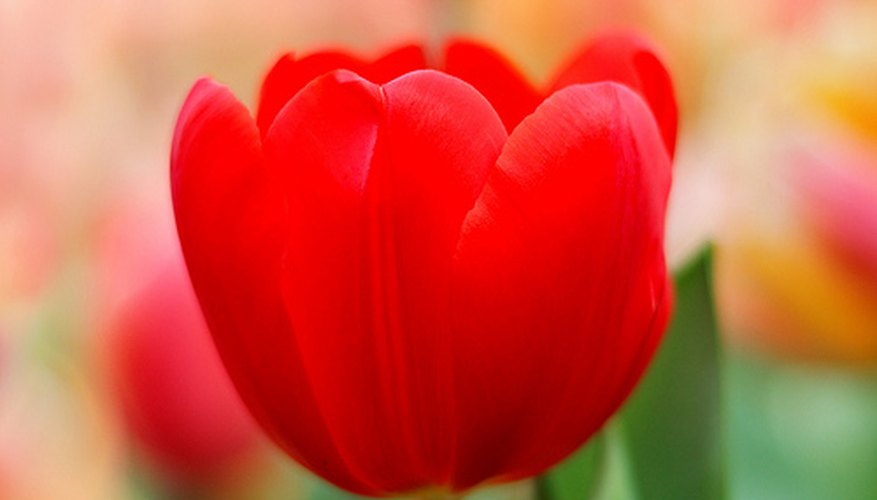 Tulips are among the first flowers of spring and share the garden stage with daffodils and crocuses. Their blooms are relatively short-lived, lasting as little as a week in warm weather. By varying planting depths and choosing between early, midspring and late varieties, tulips can be enjoyed for two to three months before the summer flowers take over. Once the blooms have withered and the foliage has yellowed and dried, the bulbs are dormant and can be dug up and moved or stored for fall planting.
Remove the bulk of the soil with a spade, using care to dig around, not into the bulbs.
Remove the remainder of the soil from around the bulbs with a hand spade. As bulbs are uncovered, move them into a storage box.
Replace the soil in the bed and work in a little fertilizer if you will be planting right away.
Separate the new small bulbs (offsets) growing on the sides of the large bulbs. Arrange your bulbs into large and small (offsets) groups.
Plant older, larger bulbs in new beds with a little bulb fertilizer at a depth of 5 to 10 inches. Plant new, smaller bulbs (offsets) 3 to 5 inches deep. New bulbs can be planted over the top of old bulbs for increased planting.
Lift tulip bulbs every two to three years. Separate the new bulbs (offsets) from the old ones and replant all the bulbs in the fall.
Let the bulbs air dry for a few days, and then cover them with dry peat moss, sand or vermiculite. Moist conditions will rot the bulbs. Store bulbs in a location that is free of excess humidity. Bulbs are best stored in the ground, but they can be stored over the summer or winter and replanted in the spring or fall.