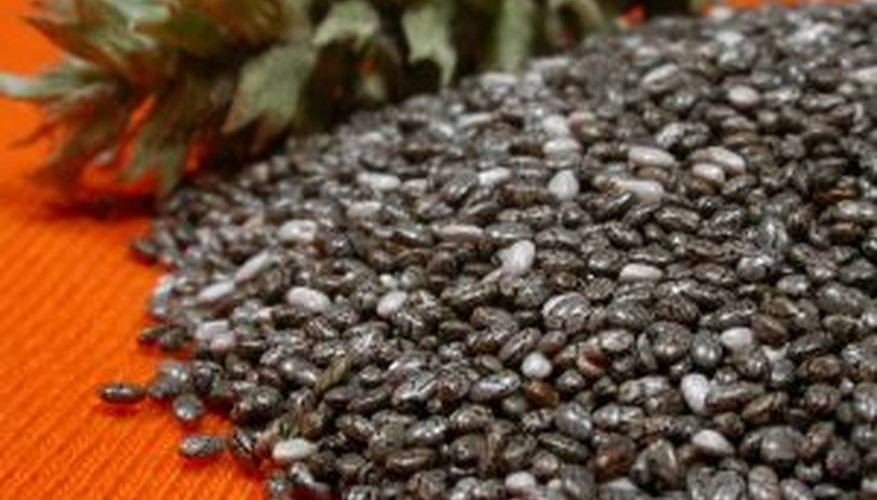 Chia, or Salvia Hispanica, is a mucilaginous seed that is grown for its healthy edible sprouts. Mucilaginous seeds form a slippery gel coating when wet thoroughly that supplies all the nutrients they need to grow. Plant them successfully on any moisture holding surface, such as burlap sacks or special sprouting mats called baby blankets. Chia kits are available and include special clay forms to start the seeds on. Simple to grow, adding chia to your edible indoor garden is an easy process.
Choose your growing medium, whether it is a clay form, grow mat or burlap sack. Lay the growing medium in a cookie sheet or empty tray and moisten thoroughly with water.
Spread the chia seeds onto the growing medium. Spread them evenly and attempt to have no seeds touching each other.
Cover the seeds with a second tray or lay plastic wrap loosely on top to help hold in moisture. Chia prefer a warm, dimly lit and humid environment to sprout in.
Mist the growing medium with water every 1 to 2 days. Keep it moist, but not soaking wet.
Remove the tray cover or plastic wrap once seeds sprout in 3 to 5 days. Move chia sprouts to a betterl lit area, such as a sunny window or a brightly lit room. Keep the growing medium moist.
Harvest chia sprouts once the leaves are green and fully open. Cut the sprouts off along the stems just above the growing medium surface.
Things You Will Need
Growing medium

Trays

Plastic wrap

Spray bottle
Tips
Avoid watering the day of harvest for 8 hours to allow the plants to be dry and store better.

Store uneaten sprouts in the refrigerator.
Warning
Avoid getting seedling leaves too wet. Always water from the side of the growing medium or by misting lightly.
References