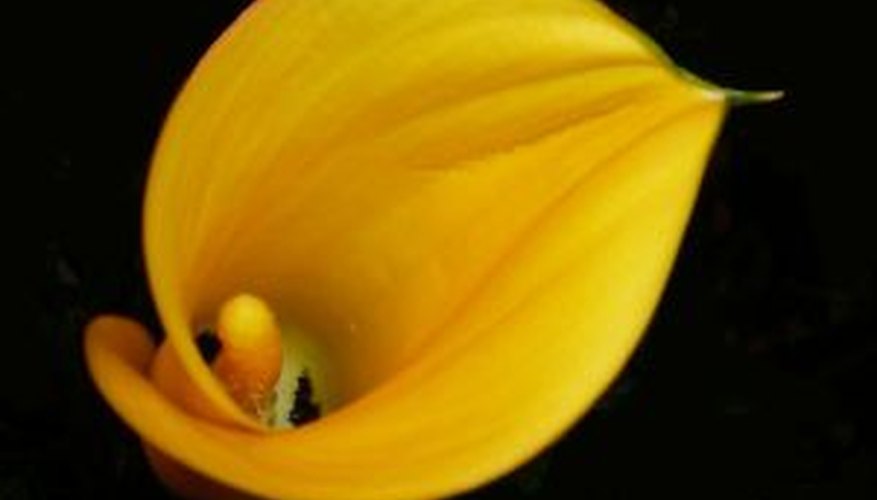 Calla lilies are prized for their trumpet shaped flower and ease of growing. Flowers range in color from pure white to pink, purple and yellow. Grown from pieces of root called rhizomes (but often referred to as bulbs), calla lilies are a hardy plant with minimal maintenance. Simple enough for a novice gardener to grow successfully, the calla's rhizomes reproduce under the soil each year so a single rhizome may be used to propagate many more lilies over the years.
Choose a well drained garden bed in full to partial sun. If water puddles, drain in 5 hours the soil is fine, otherwise improve drainage by working compost into the bed until it is raised 2 to 3 inches.
Plant bulbs after temperatures reach 55 degree Fahrenheit and all danger of frost has passed. In warm climates with mild winters, bulbs may be planted in late autumn.
Dig holes 12 to 18 inches apart. Plant each bulb 4 to 6 inches deep in the soil. Place the bulb in the hole so the eyes from which the plant will sprout face upward.
Water thoroughly after planting. Keep the soil moist at all times.
Apply an all-purpose fertilizer to the soil once per month during the growing season.
Allow the foliage to die back naturally after blooming. Dig up the bulbs after the first frost in areas with freezing winters. Lay them out on newspapers to air dry for two days, then store them in a box filled with peat moss in a cool, dark place until spring.