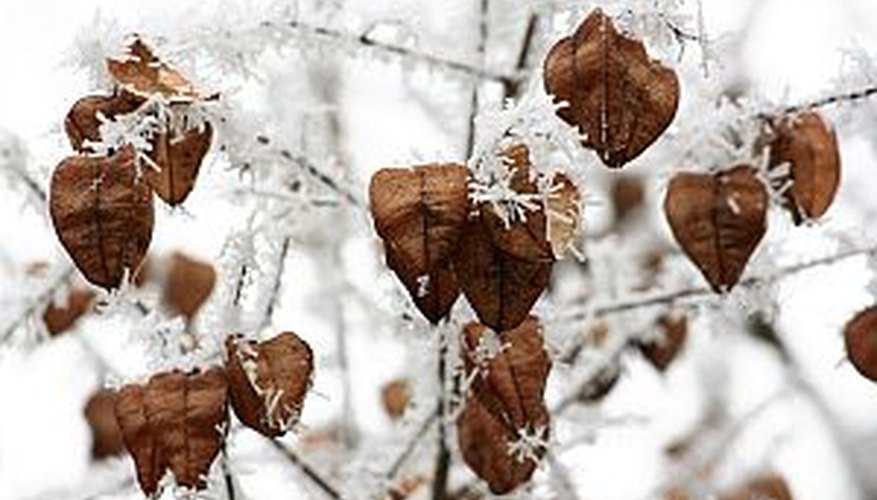 Whether a gardener needs to protect sensitive plants from a spring freeze or is seeking to extend the growing season by keeping summer plants alive for a little longer, all gardeners should know how to protect outdoor plants from freezing temperatures. There are several methods available for protecting plants that are sensitive to freezing temperatures, each with special considerations a gardener must understand.
Saturate the soil around plants in the evening before an overnight freeze is expected. Moist soils will stay warmer overnight than dry soils. Moist soil also may help raise the air temperature around the plants slightly.
Cover plants with cotton sheets or plastic tarps carefully. Place the covers over the plants so that the edges of the covers touch the soil around the plants. Make sure that the plants under the covers do not touch the covers, however, because this can damage the plants. The cold cover will make the plant foliage cold wherever the two are touching. Remove the covers the next day, especially if the sun is shining. This will help warm up the plants.
Mulch with wheat or straw over the plants. Sprinkle the mulch lightly over the plants the night before an expected freeze. Remove the mulch the next day if the temperature rises significantly. If the next day stays cloudy and cool, leave the mulch in place.
Cover seedlings with sawdust to insulate them from the cold. Remove the sawdust the next day by blowing it off with a leaf blower.
Water the soil around the plants the next day to thaw the soil. This will also provide important moisture for the plants.