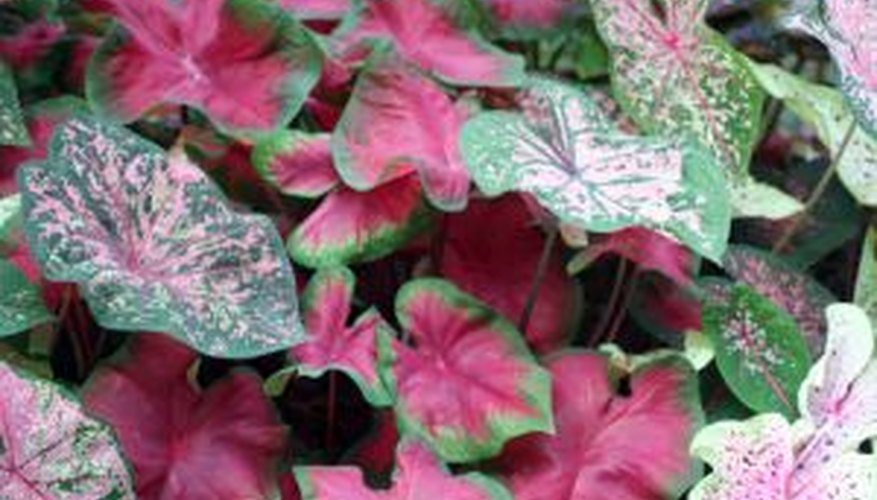 Colorful caladiums come in multi-colored combinations of red, white or pink leaves. Each heart shaped leaf ranges in size from 6 inches to 2 feet in length. Native to South America, these leafy plants grow well indoors as houseplants or outdoors in the shade. They prefer warm, humid environments. Plant outside if you live in a warm climate where winter temperatures rarely drop below 55 degrees Fahrenheit. Keep caladium inside as a lush houseplant in colder climates.
Choose a 12 inch or larger container to start the caladium in or start plants for later outdoor transplanting in 6-inch peat pots. Start plants 6 weeks before the last frost date in your area.
Fill peat pots with starter soil or fill permanent planting containers with 1 part starter soil to 1 part potting soil.
Pick bulbs—actually tuberous roots—that have buds already formed on them. Sow with the rounded side of the bulb facing up to a 2-inch depth. Refill the planting hole with soil or vermiculite.
Keep the soil moist at all times, but not soaking wet. Place containers in a warm room where they receive diffused sunlight.
Transplant outdoors to a well drained, shaded garden bed with rich soil once all danger of frost has passed. Dig a hole deep enough for the entire peat pot to fit in. Score the sides of the pot with a razor blade, place it in the hole, then fill it in with soil.
Fertilize indoor plants every 2 to 3 weeks with liquid houseplant fertilizer. Outdoors, fertilize monthly with a general purpose fertilizer.
Dig up outdoor roots in the fall once the leaves die back. Place them on newspaper in a dry area for 1 week for the roots to dry out. Store them in a box of dry soil in dry location that does not drop below 55 degrees Fahrenheit until spring replanting.
Things You Will Need
Container

Peat pots

Soil

Vermiculite

Razor blade

Trowel

Newspaper

Box
Tips
Remove dead and damaged leaves as necessary to encourage healthy, lush foliage growth.

Work compost or peat moss into the soil to improve drainage.

Move houseplant caladiums outdoors to decks and patios for summer.
Warning
Caladium will not survive a single frost. Dig up roots or bring containers in before temperatures begin to drop.
References