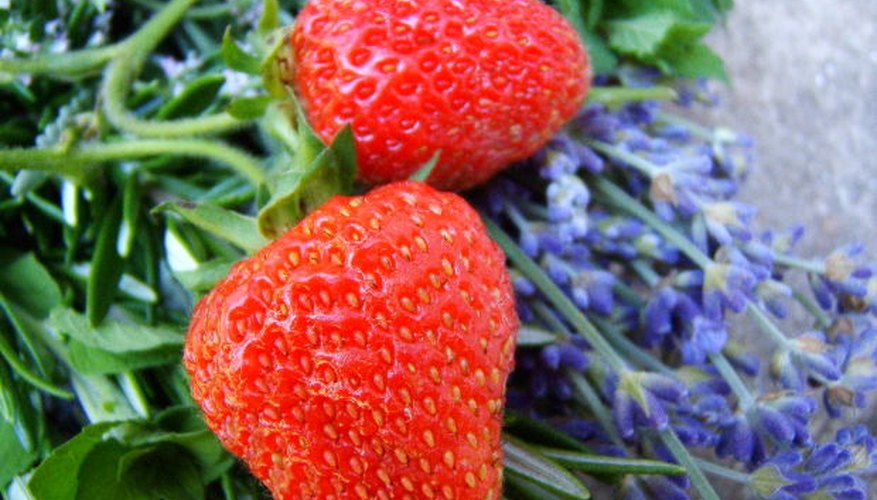 Growing strawberries in the home garden provides a supply of ready-to-eat delicious fruit high in antioxidants. These hardy fruits grow plump and bursting with flavor with minimal care. One plant may produce up to a quart of berries in the course of the season, making them ideal for eating fresh or freezing for winter use. Blooming time varies with the variety grown, but all strawberries must be protected from the ravages of winter to promote healthy spring growth.
Leave strawberry plants undisturbed until the first two or three light fall frosts have hardened off the plants. Although spring frost may damage strawberry plants, they are hardier in the fall and can withstand temperatures down to 20 degrees F.
Cover with 4 to 6 inches of straw in late fall before temperatures are expected to fall into the 20s in your area. Sprinkle and inch or two of loose straw over the plants and allow it to settle for 24 hours to prevent damaging leaves. Add straw until you reach the appropriate depth. Northern climates benefit from a heavier cover of straw while southern climates are fine with 4 inches.
Check plants in early spring when the weather warms. If leaves have begun to turn yellow, remove the mulch to allow sunlight to hit the plants. Be ready to re-cover the plants in the event of late spring frosts. Blooms that are touched with frost will not produce fruit.