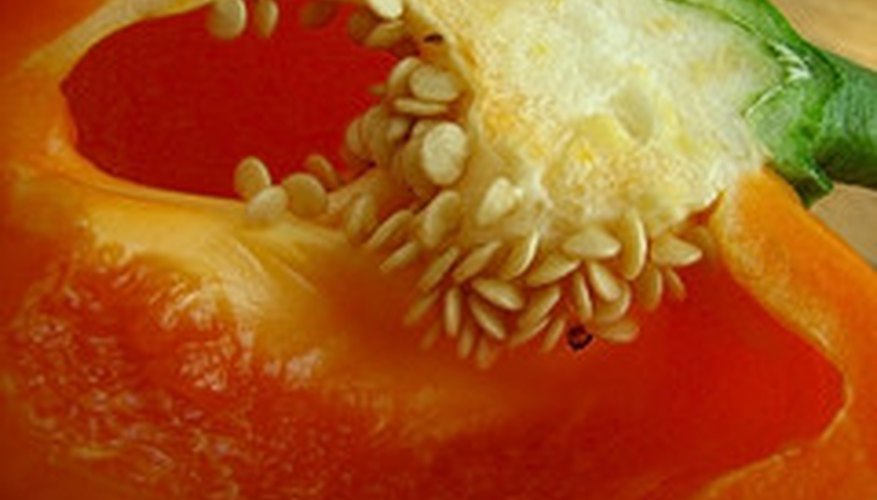 Bell peppers seeds are flat white discs which are similar in appearance to tomato seeds. This is not surprising as the two vegetables are closely related; however there are a few extra steps to follow when growing peppers. Do not let this discourage you as the seeds are easy to handle and germinate well. Even better, most bell pepper varieties mature in only 70 days making them ideal for many climates. Enjoy them green, or let your bell peppers ripen fully into red, yellow, orange or purple, depending on the specific variety.
Wait until the soil temperature has warmed up to 80 degrees F. In most climates this will mean starting seeds indoors on a heated mat.
Plant two to three seeds in each pot, approximately ¼ inch deep or four times the width of the seed. Place the pots in a seed tray and water enough to soak the soil, but not so much as to cause excess water to pool.
Cover seedlings with a plastic dome until the first seeds germinate. Lift the cover once a day to check on your seedlings and pour out any extra water from the lid. You will probably not need to add water during this stage.
Maintain ¼ to ½ inch of water in the seedling trays after removing the dome. It should be sufficient to check once a day, but bear in mind that the heating mat will cause water to evaporate more quickly. You can turn the mat off after most seeds have germinated if your home is fairly warm (70 to 80 degree F).
Thin seedlings to one per pot after the first seedling has its true leaves. True leaves are not the first two leaves which were curled up inside the seed, but are the more detailed leaves which open up later.
Add a half-strength liquid fertilizer every two weeks after germination. This should be a balanced fertilizer (marked with 10-10-10) or a fish fertilizer.
Transplant your seedlings outside after all chance of frost is over. Use well-draining soil and space the plants 12 to 18 inches apart.
Things You Will Need
Peat pots or seed starting mix and containers

Seed tray with lid

Liquid fertilizer
Tip
Check the date on your seed packet. Seeds lose potency over time.