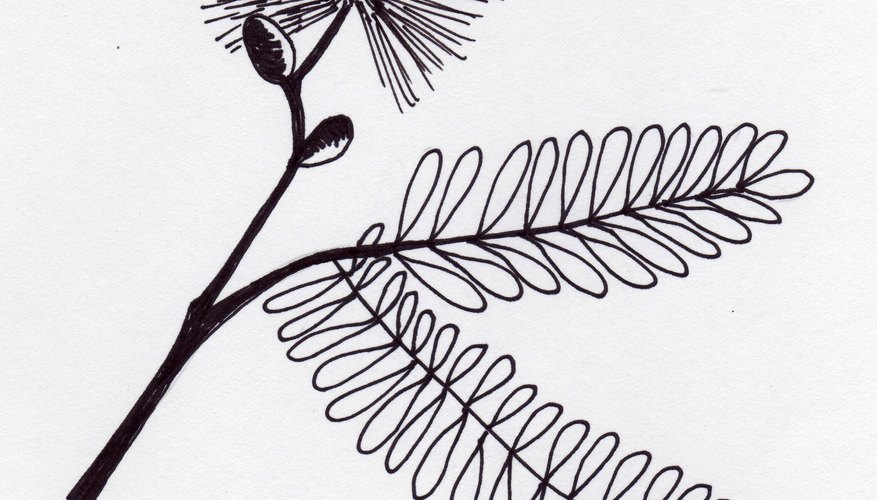 Mimosa pudica is called "sensitive plant" and "tickle me plant." It is fun to grow because the small, ferny leaves close when touched. Pudica means ashamed or bashful. It's a tropical plant that can be grown as an annual in the warmer months, or bought indoors. Pudica is a low-growing, creeping plant that's considered a weed in places like Hawaii, where it was introduced from its native South America. Some believe it has medicinal properties, although there is no scientific evidence to support that. The plant might contain toxins.
Soak seeds in hot water for about 12 hours to encourage germination. If you can find an existing plant, take a 3-inch cutting, dip it in a rooting hormone and plant in potting mix with vermiculite.
Look for seeds that swelled in the hot water and plant them in your pot or flat, covering them with about a quarter-inch of potting soil.
Water well and gently. Place in a sunny spot. Germination occurs within several days.
Grow Mimosa as a houseplant by potting young seedlings or rooted cuttings in medium-size pots filled with a light potting mix. Keep it near a sunny window and allow it to dry slightly between waterings. Fertilizer is not needed.
Grow Mimosa outdoors by planting it in compost-rich soil when seedlings are about 2 inches tall. It can form a groundcover that helps shade out weeds but will die in the winter. Fall would be a good time to take cuttings or collect seeds for next year's crop or for use as a houseplant.
Things You Will Need
Mimosa pudica seeds or cuttings

Hot water

Nursery pot or flat with drainage hole(s)

Potting soil

Trowel

Water
Tips
Mimosa doesn't care for high humidity, which can introduce fungal diseases and rot.

This plant likes to be root bound.

Keep temperatures between 60 and 85 degrees Fahrenheit.
Warnings
When transplanting Mimosa, take care not to disturb the sensitive roots.

The plant is not edible and may contain toxins.
References