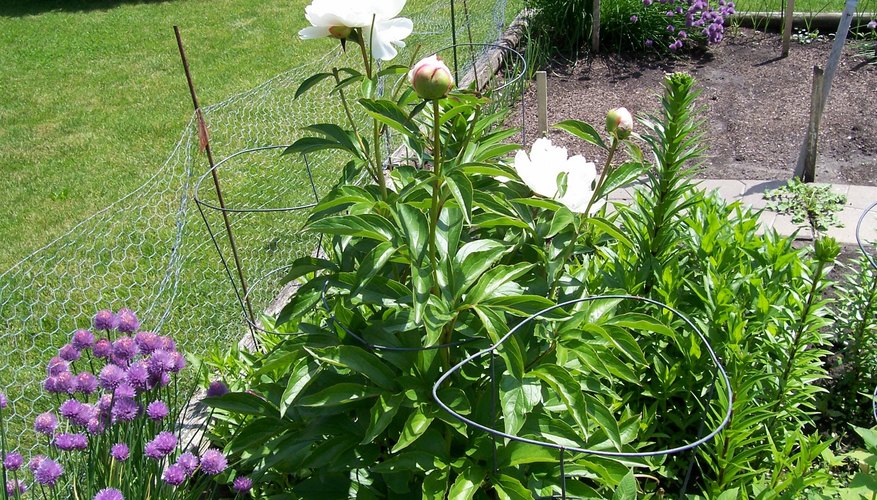 We plant peonies because of nostalgia and because they are one of the earliest bloomers in the garden. From the heavy-headed, old-fashioned Bowl of Cream to delicate Japanese tree peonies, their early-June blooms herald summer's coming glory and provide armfuls of fragrant blooms. But once they've all bloomed, you're left with droopy flower heads and raggedy-looking shrubs. With a pair of pruning shears and a little time, you can clean up and help your peonies prepare for next season.
Allow peonies to finish blooming. If you don't pinch side buds, each branch may have as many as four or five flowers. Resist the urge to cut flowers to bring inside if you have only a few young bushes. They'll reward you with even more blooms next year.
Nip spent blooms just above the top set of leaves, with about 5 inches of stem, depending on your variety. Compost the refuse and clean your pruning shears before storage.
Shape bushes only to remove branches that hang over or extend far beyond the rest of the bush. Peonies are herbaceous perennials, which means their branches allow them to produce chlorophyll to produce food.
Remove any branches that die back or break as you would with any plant in the garden. Avoid watering the leaves as you would any flowering plant. To maintain air circulation, don't allow peonies to be overgrown by other plants.
Cut the plants back to the ground in the fall, cutting just above the soil line. Work some compost into the ground around your peonies as a light, organic mulch to protect the bush over the winter, particularly if snow cover is not reliable in your area.
Things You Will Need
Pruning shears

Bucket or basket for clippings

Garden gloves
Tips
Because peonies bloom early, they collect nutrients for next year's blooms all summer long. Don't pick peonies the first few years they bloom. After they're blooming reliably, avoid taking more than a third of the flowers.

Always keep pruning shears sharp and tools clean to minimize injury and transmission of diseases. When pruning afflicted plants, clean tools in a 10-percent bleach solution or spray with 70-percent rubbing alcohol. Do not add diseased plant matter to compost.
Warning
Peonies are susceptible to several diseases, including Botrytis and Phytophthora blight, Verticillium wilt, white mold and several viruses. Remove and discard diseased plants; most of them are not curable and will spread disease to other plants.
References
Resources