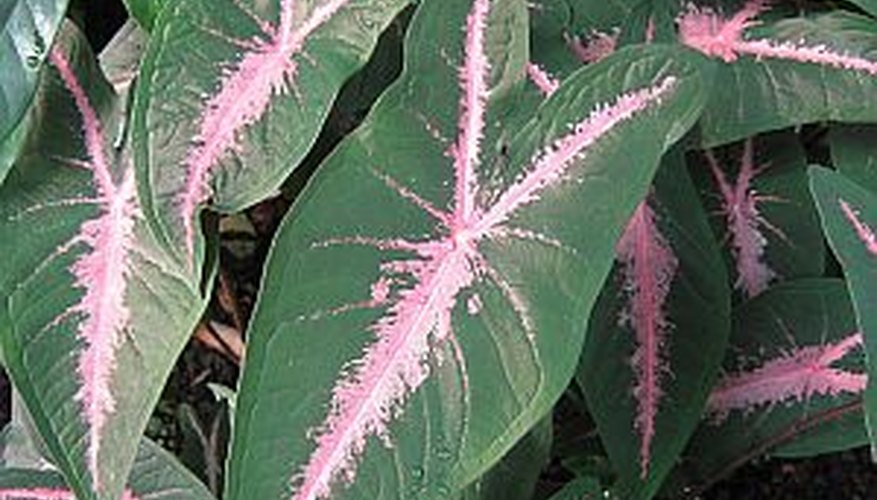 Gardeners with damp and shady spots in the yard often become frustrated trying to find something to grow in these difficult conditions. Look no further than the beautiful caladium and then get ready to see a striking show of color in the lush foliage of this plant. There are no blooms, but the caladium makes up for that with the colors of its foliage. From standard green, to pink, red and even white leaves, the caladium will add a splash of unexpected color in a shady garden spot.
Select a growing location in the spring after the soil temperature is at least 70 degrees Fahrenheit. The ideal light conditions for caladiums are partial shade with dappled or indirect sunlight. In regions where it is extremely hot, plant caladiums in full shade. Protect caladiums from strong winds by planting in an area with some protection from the wind.
Prepare the planting area by working the soil with the garden spade down 4 to 5 inches. Add at least 2 inches of compost to the top of the soil and work this in with the spade to incorporate it into the soil. It is important that the caladiums do not sit in soggy soil, so you must improve the soil so that it drains sufficiently.
Dig 2-inch deep holes that are wide enough to fit the tubers. Space the holes between 8 and 18 inches apart in the flowerbed. Plant smaller caladiums closer together and larger plants further apart.
Place the tubers into the prepared holes so that the eyes are facing up. Replace the soil around the tubers and pat it down firmly. Water the newly planted tubers well.
Monitor the caladiums during the growing season and give them supplemental water if they wilt.
Fertilize caladium plants every six weeks during the growing season with a slow-release fertilizer. Follow package recommendations for the proper amount of fertilizer for your growing area.
Dig up the tubers before the first freeze in climates where it freezes in the winter. Remove the tubers from the ground and store them with their foliage intact. Place the tubers in paper bags and keep in a dry location with constant temperatures between 65 and 70 degrees Fahrenheit.