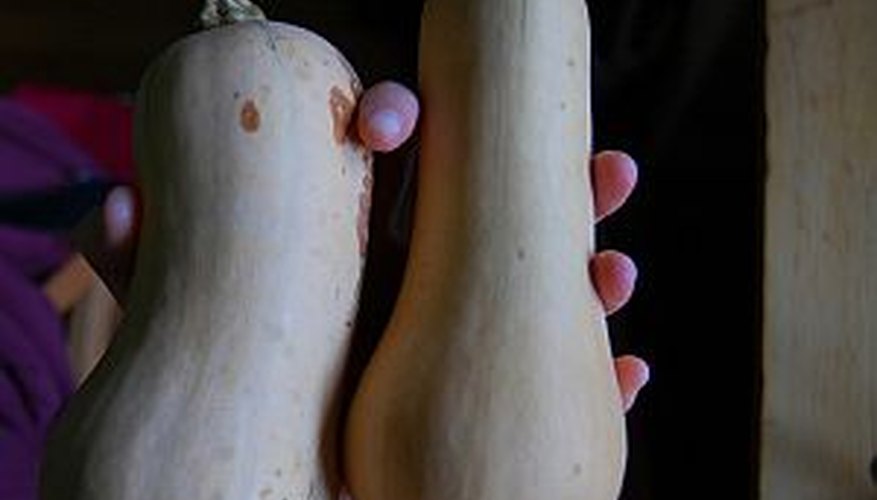 Gardeners with ample growing room often enjoy growing a variety of squash. Butternut squash is one variety that typically grows well in a home garden. Prepare the growing area carefully with plenty of mulch several weeks before planting to make sure the soil is rich. Plant butternut squash when it is warm. Harvest in the fall for a delicious treat.
Prepare a sunny growing area several weeks before planting the seedlings. Add at least 1 inch of compost to the top of the soil and work the compost into the soil completely. Cover the soil with 2 to 3 inches of mulch. Allow the mulch to sit on the surface for 3 to 4 weeks. Work the soil after this time elapses and sprinkle fertilizer over the surface of the growing area. Consult the fertilizer packaging for the recommended amount for your growing area. Work the fertilizer into the soil completely.
Dig holes for the seedlings. Space the holes 4 inches apart and make them deep enough so that the seedlings will be at the same depth as they are in the temporary pots.
Set the seedlings into the prepared holes and fill in the soil around the seedlings. Water the newly planted seedlings generously.
Water the squash plants regularly if rain is not plentiful. Make sure the plants receive at least 1 inch of water each week.
Harvest the squash when the plant vines dry up. For best results, harvest before the first frost of autumn. Cut squash at the stem, leaving approximately 2 inches of stem on the squash.
Things You Will Need
Butternut squash seedlings

Shredded bark or leaves

Compost

Spade

All-purpose fertilizer (granular)

Water

Utility knife
References