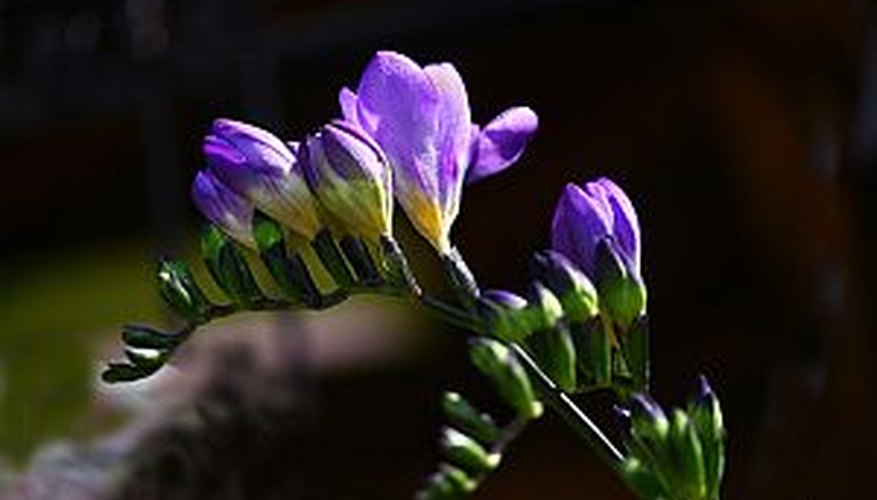 Gardeners in search of a beautiful yet easy-to-grow addition to their landscapes should consider freesia. Freesia flowers grow on the sides of the stems, but the blooms turn so that they are facing up. This unusual configuration makes freesia flowers striking, both in a flower bed and in a cut arrangement. Freesia plants are hardy to zones 9, 10 and 11 and are suitable for autumn planting. In colder zones, plant freesia bulbs in the spring for one season of blooms.
Choose a sunny location for your bulbs. Work the soil and add at least 2 inches of compost to improve the drainage.
Dig holes 2 inches deep and wide enough for each bulb. Space the holes 3 inches apart. Place one bulb in each hole with the pointed end facing up. Cover the bulbs with soil and pat firmly.
Water the newly planted bulbs generously.
Leave the freesia foliage intact after the plant finishes blooming in the summer. This will enable the plant to gather nutrients for the next growing season.
Trim off the foliage just above ground level when the plant yellows in late summer.
Things You Will Need
Compost

Spade

Shovel

Freesia bulbs

Water
Tips
Cut blossoms as desired while the plant is blooming.

In colder climates, dig up the bulbs and store them in dry containers in an area between 77 and 86 degrees. Plant them again next spring.
References