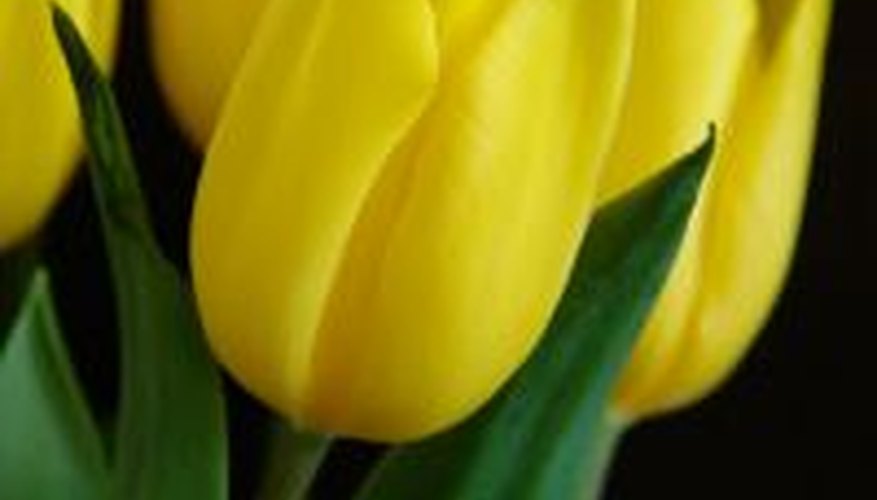 Tulips are low maintenance plants most often seen in the garden, but you can easily bring their bright colors inside your home. Grown from a bulb, tulips require very little work and flourish in a range of container sizes. Plant in your favorite decorative pot or a traditional plastic pot. Use blooming tulips as mantle displays, on window sills or as colorful spring centerpieces. Choose single-color varieties or fill a pot with several colors.
Choose a container with existing drainage and a drip tray or use a decorative pot. Choose containers at least 8 inches in diameter.
Place a layer of of bulb fiber, available at garden centers, into containers with no drainage holes. A ½-inch layer is sufficient.
Fill the container within 1 inch of the rim with potting compost. Add just enough water to moisten the soil.
Plant tulip bulbs root end down. Plant to a depth so that the top quarter of the bulb is above the soil line. Space bulbs close together inside the container but not actually touching each other or the container sides.
Place the entire pot into a black trash bag with holes poked in it. Place in a cool, dark place such as a garage to force blooming.
Check every 2 weeks for sprouting. Water as necessary to keep the soil moist.
Move the plants indoors once the sprout reaches 2 inches tall, approximately 6 to 9 weeks after planting.
Divide the bulbs every 3 years to keep the container from overcrowding. Dig up existing bulbs from the container and replant into several containers or outside.
Things You Will Need
Containers

Bulb fiber

Compost

Trash bag
Tip
Transplant the bulbs outdoors after they flower as next year's bedding flowers if desired.
References