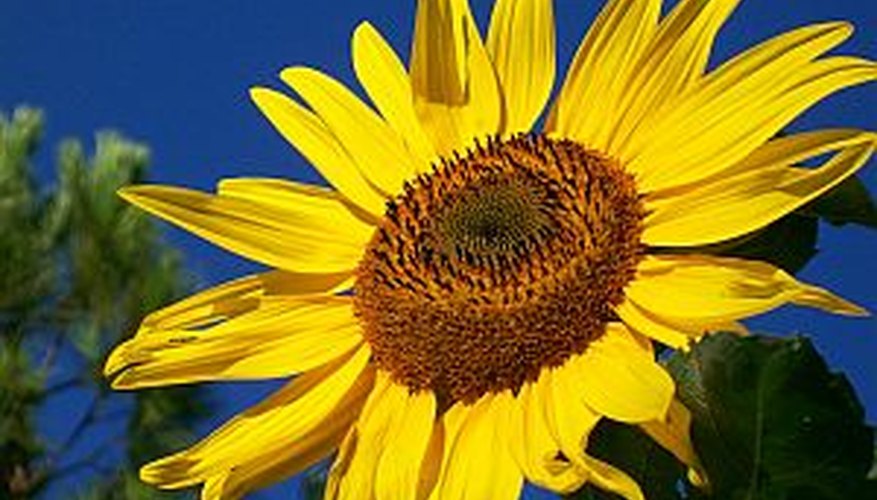 Large, showy sunflowers are a gardener's pride and joy. Get a head start on your summer sunflower grove by starting sunflowers indoors approximately three weeks before the last expected spring frost. With even moisture and an indoor grow light, you will have a healthy group of sunflower seedlings to plant outside after frost danger has passed. You may even experiment with unusual sunflower varieties for added interest in the garden.
Fill the peat pots approximately 3/4 full of potting soil. Add two sunflower seeds to each pot and space them at least one inch away from each other. Cover the seeds with 3/4 inch of soil.
Mist the tops of the peat pots generously with the spray bottle. Spread a sheet of plastic wrap across the top of the peat pots to help the potting soil retain moisture.
Place the peat pots under a grow light. Keep the soil evenly moist by misting with the spray bottle several times each day.
Watch for the seeds to germinate. Remove the plastic wrap when the seeds have germinated. Wait until the seedlings are approximately two inches high and then remove the weakest seedling so that each pot has only one sunflower seedling growing in it.
Keep the peat pots under the grow light and keep the soil evenly moist each day. When the seedlings have two sets of leaves, fertilize them once per week with liquid fertilizer mixed at half strength with water.
Harden off the seedlings approximately one week before transplanting them outdoors. Move the peat pots outside to a shady area that is sheltered from winds and leave them outside for half days for three days, bringing them back inside at night. After three days, move them to an area that receives some sun and wind and leave them in this area for three half-days. Bring them back inside at night. At the end of the week, leave them outside all night but cover them if the overnight temperature will be approaching freezing.
Plant each entire peat pot into the ground in the desired planting location. Space the pots 12 inches apart. Water generously and watch them grow strong.
Things You Will Need
Peat pots

Potting soil

Plastic wrap

Spray bottle filled with water

Grow light

Liquid all-purpose fertilizer
Tip
Sunflower seedlings are fragile. Planting the seeds in peat pots enables them to be transplanted without disturbing the seedlings.
References