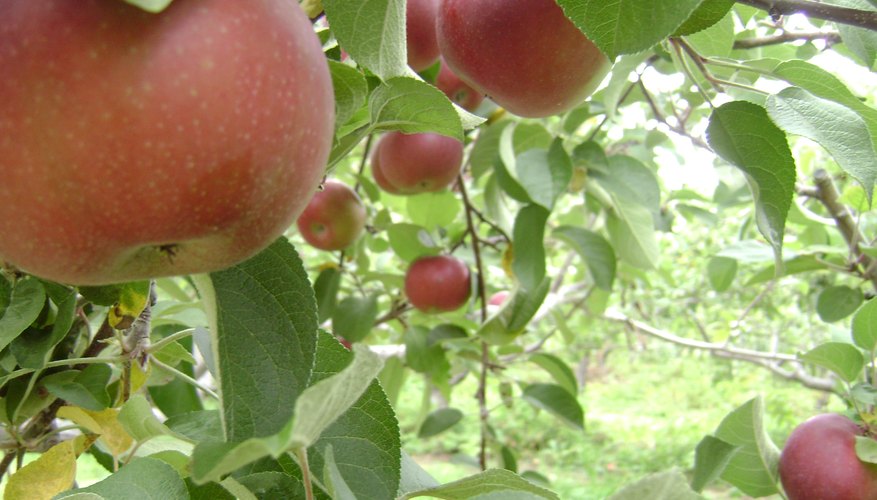 Rather than depending on harsh chemicals, make an organic fruit tree spray with soap and neem oil to kill pests. The soap kills insects by removing the protective barrier on the insect's skin. Neem oil is a natural insecticide that disrupts the neurological system of insects, yet is safe for humans. The spray can be used on any type of fruit tree.
Combine 12 1/2 cups of water, 1/2 oz. neem oil and 1 oz. liquid Castile soap in a large cooking pot.
Place the cooking pot on a stove. Heat the organic fruit spray mixture over medium-low heat, stirring occasionally for 15 minutes.
Remove the lid from a spray bottle. Place a funnel in the opening and fill the bottle 3/4 full with the organic fruit spray. Replace the lid on the spray bottle and shake to mix.
Remove the lid from a 1 gallon jug. Place a funnel in the opening of the jug. Pour the remainder of the organic fruit spray mixture into the jug. Replace the lid and store the jug in a cool place, out of direct sunlight. Shake the jug to mix the ingredients before refilling the spray bottle.
Apply the spray directly to the foliage of your fruit trees, as needed.
Things You Will Need
12 1/2 cups water

1/2 oz. neem oil

1 oz. liquid castile soap

Large cooking pot

Spoon

Funnel

1 gallon container with lid

Spray bottle
Tip
Both liquid Castile soap and neem oil can be purchased at most health food stores.
Warning
Do not use the fruit spray in the presence of honey bees, or near a body of water that contains fish; neem oil is toxic to both bees and fish.