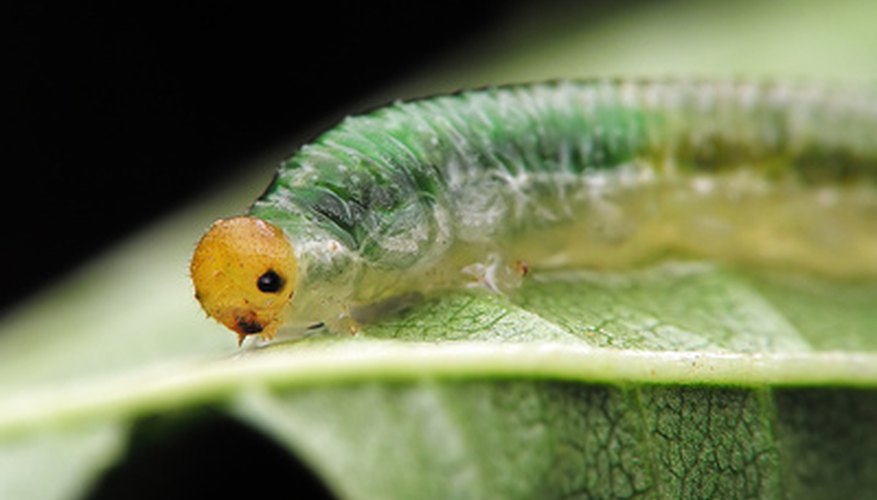 Caterpillars are considered garden pests because they voraciously eat the leaves of the vegetable plants. Caterpillar infestation, if extensive, can lead to the loss of a crop. If caterpillars are in your vegetable garden, its best to get rid of them organically, as pesticides can leach into the soil and wind up in the vegetables you will be consuming.
Look on the bottom sides of the leaves on your vegetable plants for caterpillar eggs, which will be tiny white clusters, most of the time near the vein of the leaf. Wear gloves when inspecting the leaves. Pick the eggs off and discard them so that they do not get a chance to hatch.
Pick adult caterpillars off of the leaves if the infestation is not extensive. Place the caterpillars in a bucket of soapy water to kill them.
Purchase trichogramma wasps, which are natural predators of caterpillars, to naturally control caterpillar populations. Trichogramma wasps lay their eggs inside of the caterpillar eggs. When the trichogramma wasp eggs hatch, they eat the caterpillar eggs.
Mix bacillus thuringiensis (Bt) with water as directed on the packaging label. Spray the mixture on the vegetable leaves to kill the caterpillars, which eat the bacillus thuringiensis and begin dying within three to five days.
Things You Will Need
Gloves

Bucket

Trichogramma wasp

Bacillus thuringiensis
Tips
Caterpillar eggs resemble small pieces of styrofoam.

Attract birds to the area by putting up a bird bath or bird feeder. The birds are natural predators to caterpillars.