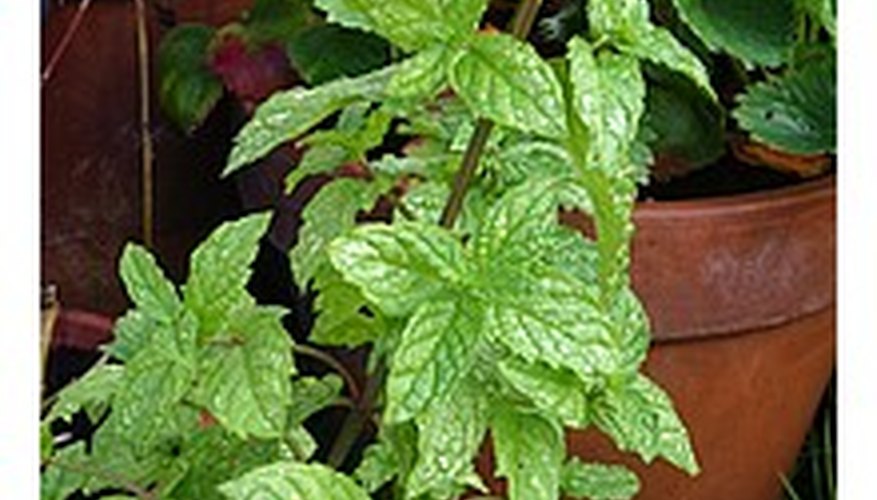 Peppermint is one of the easiest plants to grow from seed, both indoors and outside. It would make for a great child's project or for the beginning gardener. Given free reign over an outdoor area, the aromatic herb can quickly and completely take over the space. The edible leaves and stems can be used for cooking as well as for garnishing drinks and desserts. Peppermint is a perennial plant that can live for many years and doesn't need to be fertilized when grown in pots inside.
Fill the 2-inch pots with potting soil up to about 1/2-inch from the top. Scatter a pinch of the tiny seeds across the surface of the soil. Keep in mind that the fewer seeds you plant in each pot, the less you will have to thin them as they grow. Sprinkle about 1/16-inch of potting soil over the seeds.
Fill the plastic spray bottle with water and spritz the surface of the soil to barely moisten it. Peppermint prefers a somewhat dry planting medium, so let it dry out between waterings.
Set the pot in a very warm windowsill where it will receive plenty of light. Direct sunlight all day is best, although the peppermint will be fine as long as it gets lots of indoor lighting and a little natural sunshine each day.
Thin the peppermint seedlings when they're about 2 inches tall. Leave one plant in each pot, or plant them in large pots if you can allow about 12 inches in between each plant.
Keep the plants where they'll receive all the sunlight possible and maintain an ideal temperature of 70-80 degrees F. Move them to larger pots when they become pot-bound. Continue watering the mature plants when they dry out slightly.
Trim off leaves and stems of the peppermint plant as often as you like after it is well established. You'll soon discover that it grows as prolifically as a weed, so pick all of the peppermint that you want for your own enjoyment.
Things You Will Need
Peppermint seeds

2-inch planting pots

All-purpose potting soil

Plastic spray bottle

4-inch planting pots