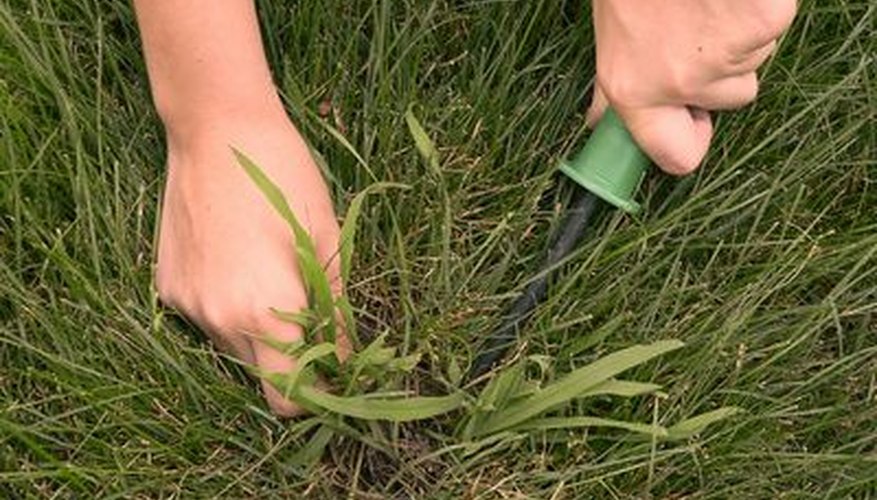 Crab grass is an invasive weed that can take over lawns and flower beds if not removed. One characteristic of crabgrass that makes it difficult to remove from growing areas is that it never stops growing during its growing season. This means that it constantly has new growth, developing seeds and mature seeds all at the same time, making it an extremely prolific and actively spreading weed. There is hope, however. With a little old-fashioned effort and simple home remedies, a gardener can have victory over crabgrass.
Pull the crabgrass out by the roots by hand. As laborious as this sounds, it is very effective for removing crabgrass from flower beds.
Fill a spray bottle with undiluted white vinegar. Spray the white vinegar directly onto the crabgrass. Do not spray any flowers during this process. Do not water the flower bed for at least 24 hours. Wait a few days and repeat if necessary.
Fill a spray bottle with undiluted bleach. Spray the bleach directly onto the crabgrass in the same way that the vinegar was sprayed in step 2. Avoid spraying the bleach on flowers. Wait 24 hours before watering and repeat as necessary.
Fill a large pot with water and bring it to a boil. Pour the boiling water directly onto the crabgrass to burn it. Avoid pouring the water on the flowers and repeat after a few days, if necessary.
Lay a thick layer of mulch onto the areas between flowers in the flower beds to prevent crabgrass from returning after it has been removed. Also make sure that your flower beds are filled with healthy perennial and annual flowers so that crabgrass does not have much room to grow and take root.
Things You Will Need
Gardening gloves

Spray bottle

Vinegar

Bleach

Water

Pot

Mulch
References