Many homes have hot tubs for personal use and entertaining. Hot tubs can be located on a deck, beside a swimming pool or sitting on the lawn. Landscaping around hot tubs includes many choices that will reflect what the homeowner wants or desires. Deciding on what landscaping features are desirable is the first step to landscaping around a hot tub.
Deck Hot Tubs
First, look at where the hot tub is located. A hot tub on the deck will look better with small potted plants on each side of the steps that lead up to the hot tub. Create dimension by using small potted trees at the back of the hot tub.
Surround the hot tub with fragrant potted flowers like jasmine and lavender to scent the area. A small weatherproof bench set to the side of the hot tub is a practical place for placing clothing and towels while in the hot tub.
Bamboo or other types of tall screens are an excellent way to have privacy while in the hot tub. The screens will divide the deck area from other guests that are on the deck. Bushes planted in the ground around the deck area are an excellent landscaping idea. The bushes will grow thick and fill in the area for optional privacy.
Yard Hot Tubs
For hot tubs that are located in an open area of the yard, a gazebo placed over the hot tub creates the ability to use the hot tub in rainy weather or to keep the sun off. Trailing vines planted at the posts of the gazebo gives an added touch. Choices include honeysuckle and wisteria just to name a few. Lattice panels installed between the posts of the gazebo will create privacy and act as a deterrent for insects.
Hanging planter boxes along the edges of the hot tub is a good alternative to potted plants. Flowering plants or silk plants are good choices for planter boxes.
Stepping stones used for a walkway to the hot tub is an economical alternative to sidewalks. Small solar lights placed along the stepping stones will create enough ambient lighting for walking and safety while at the same time, create a romantic mood.
Themes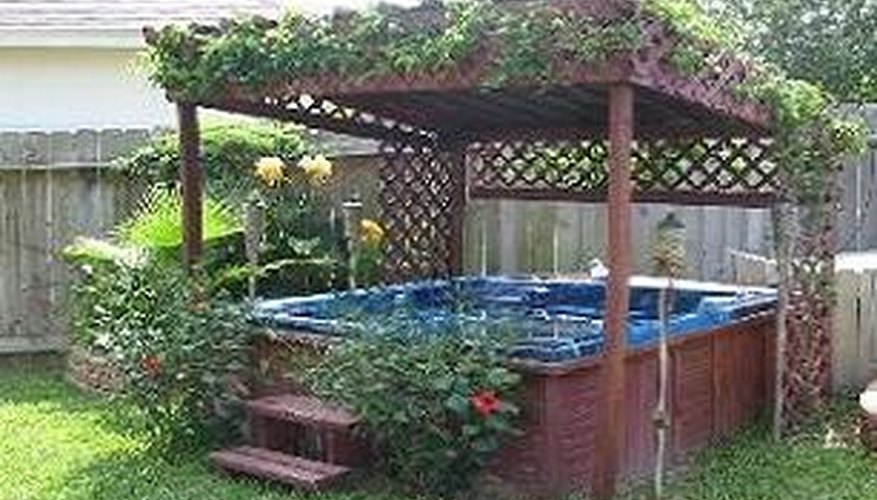 Landscaping ideas around hot tubs is almost limitless since the area could be customized in many ways. There are not hard and fast rules for landscaping. Most decorations are found at department and hobby stores.
Create a backyard oasis with any desired theme. Japanese, Moroccan, jungle or Greek themes and ideas are just the beginning.