When visitors come to your home, the first things they see are the lawn and the front porch. This first look needs to reflect pride in and care of the home and surroundings. It is much more inviting to see lawns, gardens and porches taken care of than to see tall grass, weeds, and clutter on the front porch. Front porch landscaping ideas vary and can be customized for your own style and needs.
Painting and Lighting
You need to consider a few basic things before starting a landscaping project. Tie the front porch in with the house so that it looks like a seamless addition to the home. One way is to paint the porch in colors that enhance or complement the color of the home. Replace or repaint the front door, and place a new light fixture on the porch. Strategically place lighting such as solar lights or tiki torches around the porch to create ambient lighting.
Flowers
Place flowering plants in hanging baskets around the roofline and large pots with flowers on the edges of steps. This creates a soothing effect as visitors enjoy the floral colors and aromas. Consider planting low flowering shrubs around the outside of the porch to conceal its skirting or frame. Making rounded flowerbeds here instead of sharp lines softens the entire look and creates an inviting atmosphere. Attach lattice panels to the outside of the porch and plant climbing flowers such as roses underneath. The roses will grow and climb throughout the lattice panel, creating a wall of flowers.
Seating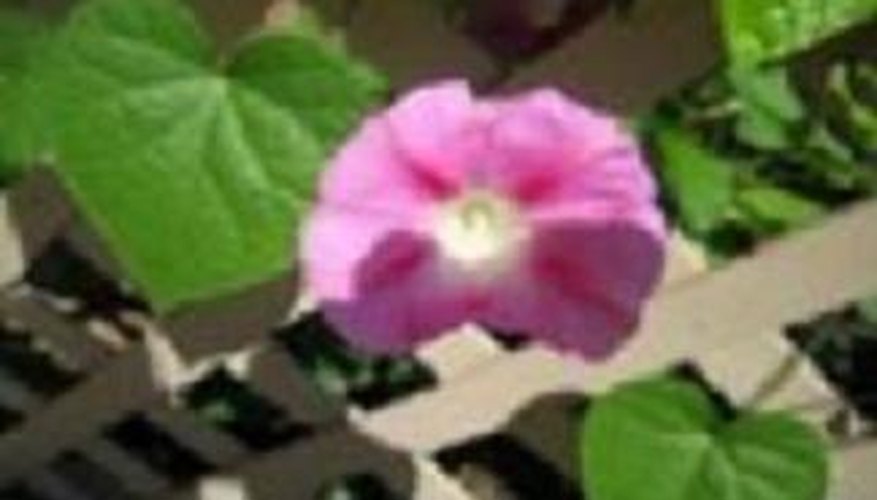 Provide comfortable seating for guests by putting outdoor tables and chairs on the front porch. Picnic tables painted in colors complementary to the porch and home work as well if you don't have much space. Wicker furniture is excellent on the front porch if you have room. For very large porches, create different seating areas with different types of furniture. For example, one area can be Victorian with wicker chairs and small tables with potted plants; another can be designed for children with a picnic bench and a toy box so they can play while they are on the porch and the parents are visiting; one area might be for smokers with sturdy ashtrays for visitors. Add a small fountain for guests to enjoy the sight and sound of running water.