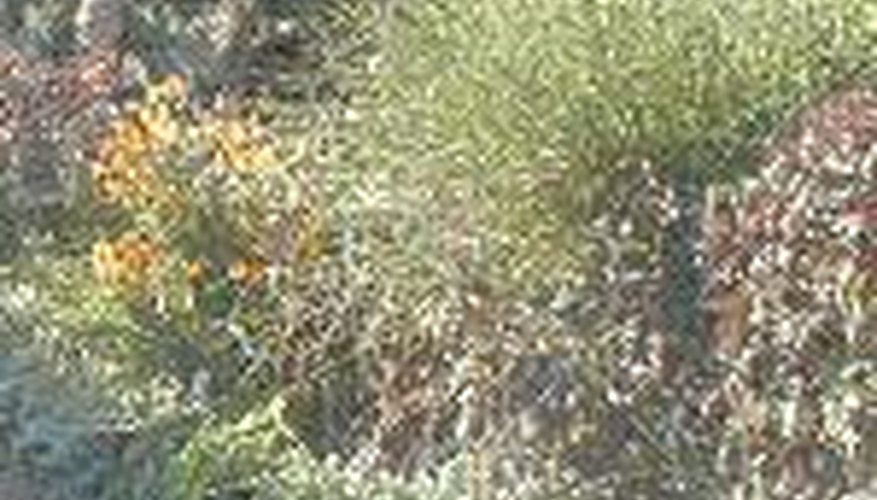 by Carol Wallace
The rich have it easy here. When they decide they want a private, even secret area in their yard, they hire someone to build walls, or fancy fences. Or they go out and buy enough tall, mature trees and shrubs to do the trick. An instant secret garden.
But the rest of us have to cultivate a bit of patience. We will have our secret garden - but we will have to create it in stages.
Design Considerations
Whether you want your entire garden to be secret or simply a portion of it, the recipe is the same. You need to plant or build something that will shield you from public view. In a large garden that may simply mean creating a small garden room somewhere off the main track for garden visitors. In a small garden it may simply mean erecting a screen or planting a shrub that acts as a divider between the public and more private parts of the garden.
You may be shocked at the very idea of dividing up what may already be a pretty small space, but trust me - your garden will actually seem larger if you create separate "rooms" in it. Let's say you have a deck out back with a clear view straight to the back fence. The yard will appear to be what it is. Small. There is no mystery involved in a straight shot clear view.
But plant a small garden area around the desk and then, some distance away create a "wall" of either lattice, fencing or shrubs with a "door" leading to the rest of the garden, it's impossible for most people to tell how much more garden may be out of sight. It could be huge. Infinite! Especially if you plan the break in the wall to take advantage of borrowed scenery - a view of a distant mountain or even a stand of birches in the yard behind you. You've added mystery, created a private space beyond the natural gathering spot that a patio tends to be - and you have made the garden seem larger.
Temporary "Walls"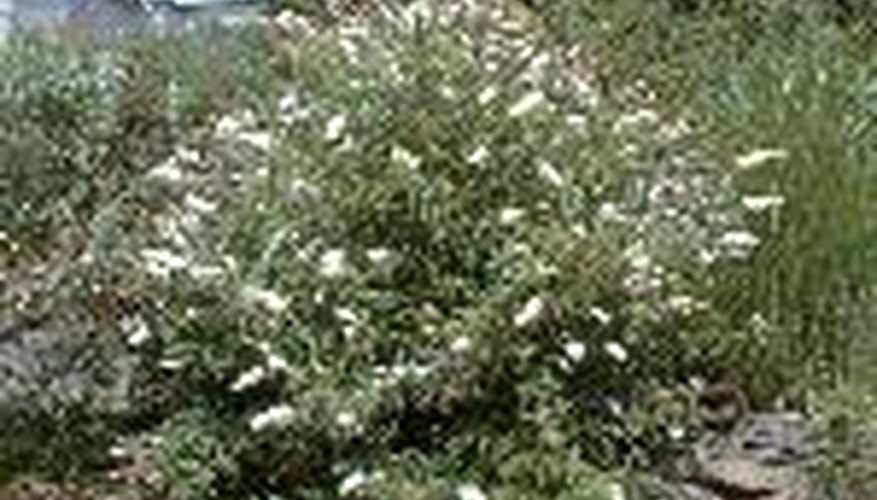 But what do you use for walls if you haven't got millions, or half a century to wait while your clipped box grows large?
I was faced with this very problem last year when we removed an informal hedge of buddleias surrounding our main garden, replacing it with a more formal hedge of Canadian hemlock. While the buddleia worked well enough, it was only a sometimes hedge. Every spring we cut it down to the ground to keep it full and leafy. So for nearly half the summer it didn't provide much privacy at all.
The largest hemlocks that we could afford were not quite 3 feet high. Our formerly secret garden felt pretty exposed.
Fast Growing Shrub Walls
As spring turned to summer, however, I noticed that a few of my back of the border plants were tall enough to provide us with some privacy. They didn't extend the full length of the border, though -so I sought out other fast-growing tall plants to create a temporary privacy wall.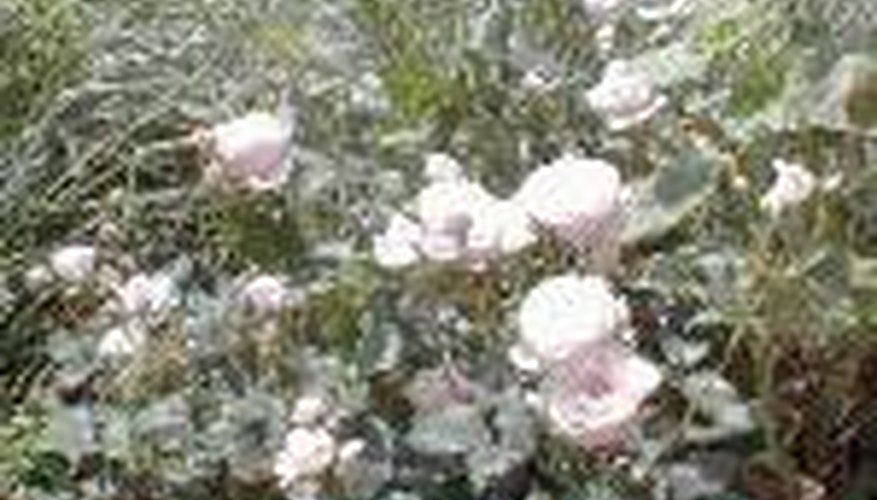 Already in place were two 6' tall David Austin roses. As a screen, 6 feet works for most of us. When gardening we tend to sit or kneel. When resting, we sit. Either way, we are not terribly visible to those on the outside.
A red twigged variegated dogwood, Cornus alba 'Elegantissima' also comes in at around 6' tall. I cut out one third of the canes each year to help it maintain its bright winter twig color, but the rest stay tall. Once it leafs out it is a wonderful privacy screen.
Colored twig dogwoods are fast growing. A very young plant - little more than a rooted cutting- can reach 5-6 feet in its second year if planted in favorable conditions. So they are idea as summer screening plants as well as for winter color. Most of the larger roses also grow quickly to a great height. My Rosa glauca reached 7 feet in three years.
Evergreen shrubs, of course, provide year round privacy. Many dwarf conifers stay small enough to be part of a perennial border. In light shade rhododendrons or azaleas work well.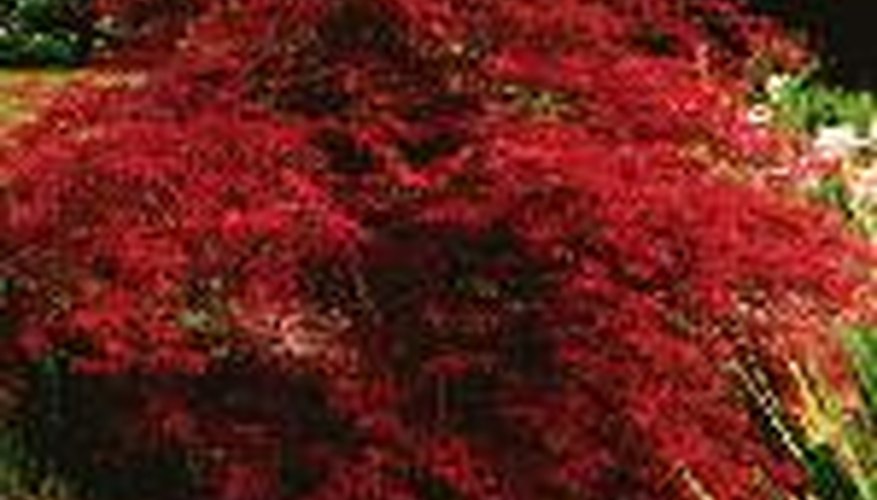 Deciduous shrubs won't provide much of a visual barrier until they leaf out - but before that we gardeners are too busy working to really sit back and enjoy the solitude. When things warm up and we're ready to take a break, so are they. Some others that work well are the smaller Japanese maples - especially dissectums with their weeping habit, the blue Arctic willow Salix purpurea - lovely color and a very delicate appearance, and purple-leafed Prunus cistena (Purple sand cherry) and the amazing new variegated willow, Salix integra 'Hakuro Nishiki'
Walls of Grass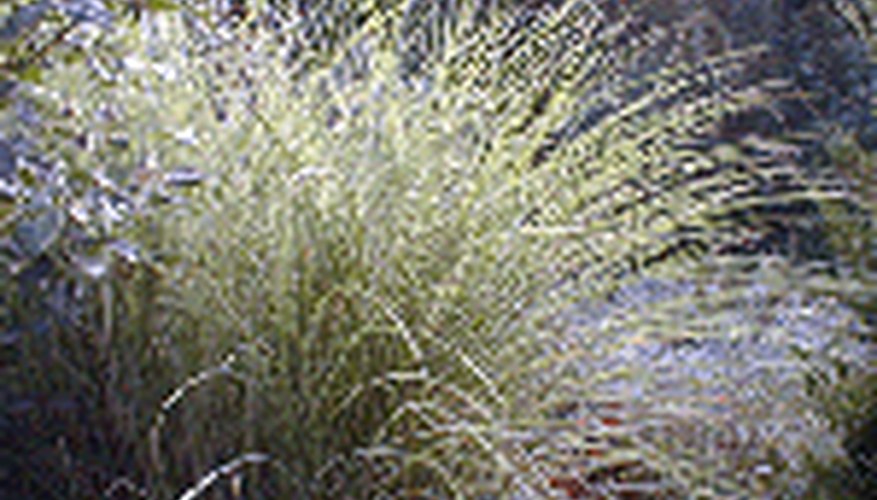 Tall ornamental grasses create a lovely screen once they recover from their spring haircuts. My Miscanthus sinensis 'Gracillimus' at the back of the bed grow to about 7' tall. They are graceful with slender blades centered with silver - a barrier yes, but one that manages to appear airy and light. There are many other tall ornamental grasses that would fill the bill equally well, in colors ranging from the very tall deep green Miscanthus floridulus' to the nearly white variegated miscanthus.
Vines and Trellises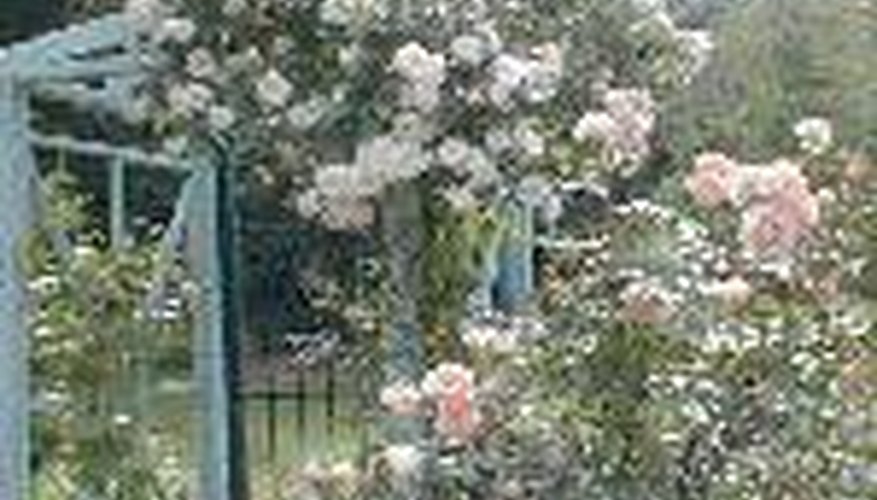 I still had uncomfortably wide gaps but the bed simply would not accommodate more shrubbery. Vines on trellises could work. Fast growing vines like hops or scarlet runner beans do the job in record time. For many garden situations a vine and trellis combination is the perfect way to create privacy and mystery in your garden design. Because of those growing hemlocks, though, it didn't work for me. So I turned to perennials.
Perennials
Lavatera is a great plant for screening! It grows quite tall and flowers continuously from late June through Fall in my garden. L. 'Barnesley' is reputed to be the hardiest, but I am growing a nameless white version that has overwintered in zone 6 without protection for two years now. If happy it reaches about 6' in height. Near the back of that same border I have some very tall delphiniums and Aconitum.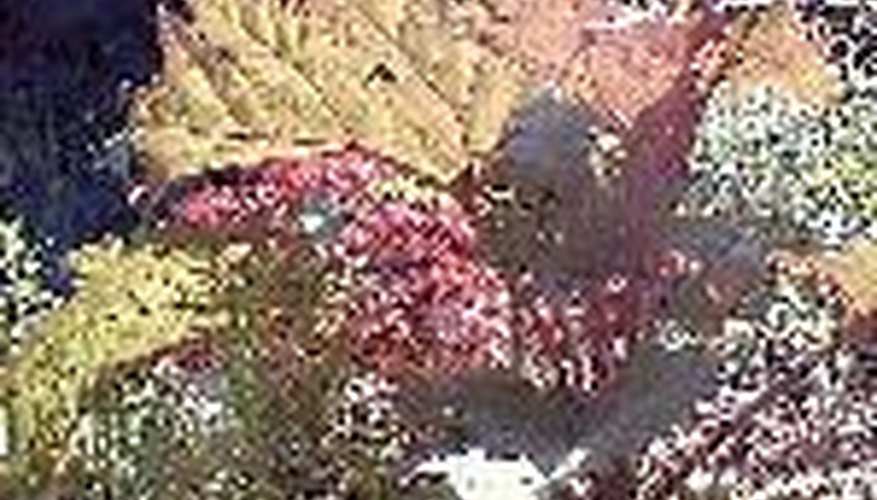 They are probably no morethan 4' high but striking and give at least a partial feelingof enclosure while I am waiting for my secret weapons to grow up.
This year I planted a Rheum palmatum tanguticum (ornamental rhubarb) in a blank back of the border spot. This baby is HUGE - gets going fairly quickly in late spring and is extremely tropical looking. However, it's hardy to zone 5.
Tropical Plants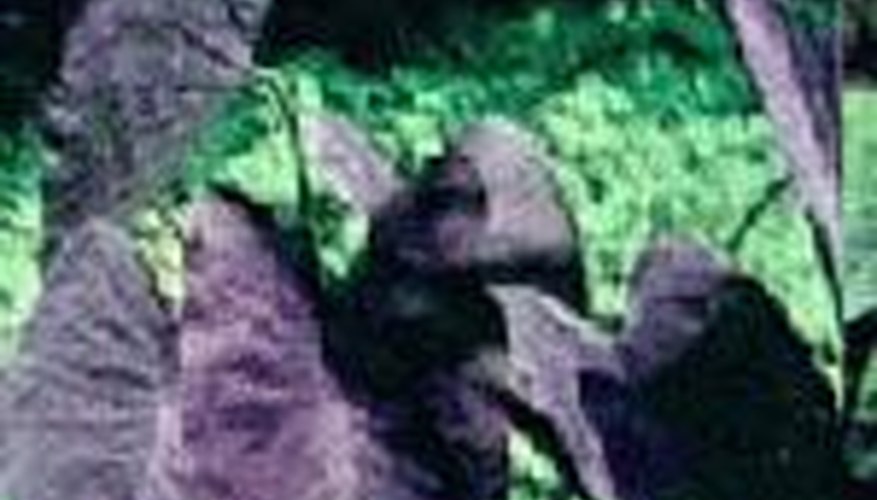 My other secrets are true tropical and subtropical plants that grow tall and massive in a single season. Colocasia is great this way - both the regular and upright elephant ears get tall enough to do the job by late June. Even taller (and easier) is a planting of castor beans Ricinus communis. I grow a burgundy-leafed variety called 'Carmencita' that is quite striking along with the burgundy of the Prunus. A few burgundy leafed cannas - or the strikingly colorful ones like 'Striata', 'Bengal Tiger' or Tropicanna' are perfect. Some dahlias also get tall and bushy. I start them indoors in early March, moving them to the garden when the soil warms. By June they have attained respectable size.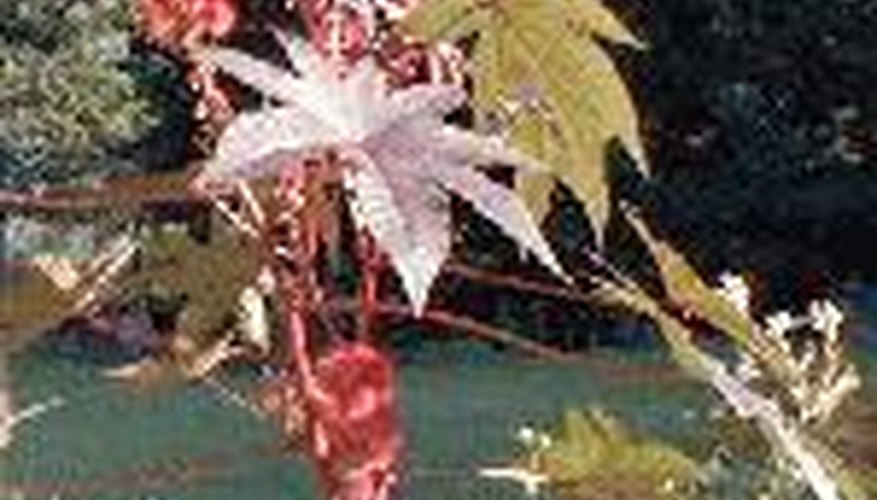 I especially like these "temp-perennials" because I won't feel like a snooty landlord tossing them out once they have paid their way through the summer and fall. . When I no longer need them they will be gone of their own accord - or dug and stored and ready to move into a new home the following year.
A combination of plants like these will create an interesting privacy screen in your garden - and one that will be both beautiful and enjoyable for you while you wait for your slower growing evergreen hedge to attain the right height.
About the Author
Carol is a garden writer and college professor in northeast Pennsylvania. She manages the Gardening section of Suite 101.com, where she also writes the column Virtually Gardening.