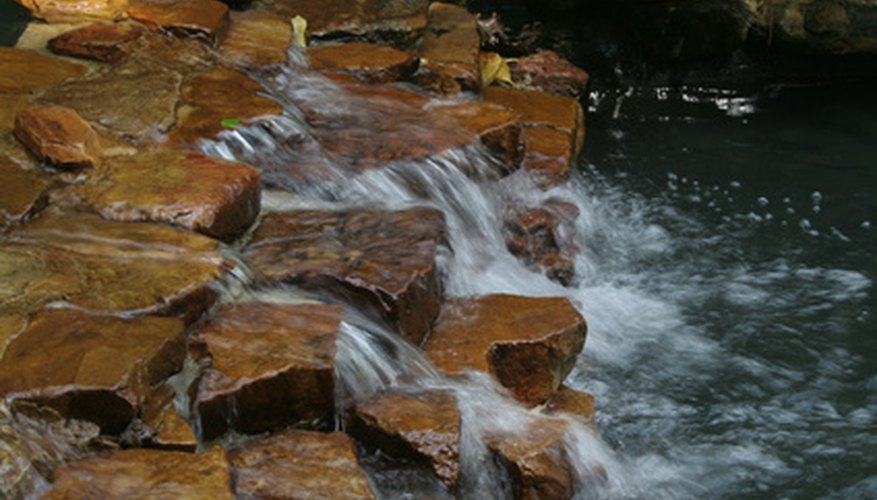 Building a waterfall is a challenging project, but it will create a peaceful environment in your own backyard and add value to your outdoor living space. Unlike most people would assume, a waterfall feature can be built quite inexpensively with only a few materials. It's important to always call your local utility company before you begin digging as you will need to find out where any gas, electrical or phone wires might be in your yard.
Outline the pond or catch basin's shape with a garden hose. The shape does not matter, but the size should be at least three feet by three feet. Look in "Resources" for information on waterfall water volume calculations.
Dig out the pond or catch basin with a shovel. Ideally, the depth of the basin should be equal to the length and the width. So, dig a three-foot-deep hole. With this size example, your catch basin for the waterfall will hold up to 200 gallons of water. The more water the basin will hold, the better the water will circulate and fall.
Place the pond or basin liner into the hole, and pull the sides up over the edges. Secure the liner to the edge of the basin with large landscaping rocks. A pond or basin liner can be found at any home store for very little money. Choosing a rubber pond liner will help prevent any punctures in the liner from hidden rocks or twigs.
Dig out a small section just outside the basin, at least two feet wide and three feet long. Place the pond pump in this section, and connect one water line to it. Position the water line so that it lays flat. Place landscaping rocks in this section to create a natural look, discreetly hiding the pump and water line. When adding the rocks to this section, you will want to angle them inward, from left to right.This will create the waterfall effect, allowing the water to flow down each rock.
Place the pond filter into the basin and connect the second water line from the filter to the pond pump. Fill the basin with water. Turn on the pond filter and prime the pump. Enjoy your new cheap, but beautiful, waterfall water feature.