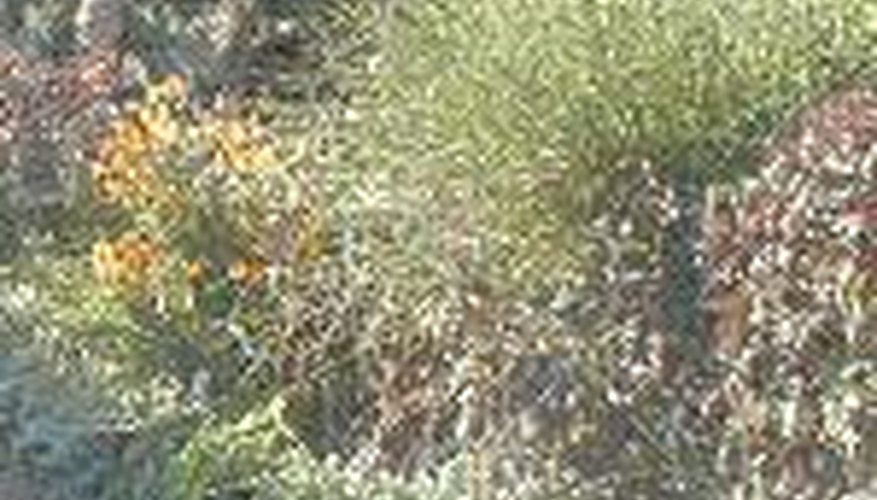 Last summer I was toiling away in the main garden in the blazing sun, muttering about how the plants were probably getting plenty of water from what was dripping off of me. "I wonder why it is that I never seem to have to spend this kind of time in the shade gardens where it's cooler," I grumbled.
And suddenly that stuck me as a very good question. My shade gardens demand very little of me. Far less than I wish considering how much more comfortable it is to work in the shade than in the full sun gardens. I'll admit that I do some weeding there - when we moved in that area was infested with bindweed, which I have been pulling for years. By now all I see is a stray one here and there, and a bunch of smartweed and garlic mustard. That and the grass that keeps trying to invade the bed are all I have to contend with except watering. And I don't even do much of that. So - what is it that makes that garden so much simpler to care for?
It's not the soil. This garden began when I tried to naturalize daffodils in the lawn. That was before I knew that you shouldn't cut the foliage down until it yellows. Which meant that I spent that summer on my knees with scissors and grass shears trying to trim the "lawn". So in the beginning this area was distinctly high maintenance. It was almost enough to put me off bulbs for good! That fall we tossed huge quantities of mulch down on the grass and started to refer to it as a garden.
Since it was then official, I began to plant other things that one never thinks of when we speak of naturalizing. Hostas - have you seen many shade gardens without hostas? Dicentra, ferns, alchemilla and a few azaleas, plus more spring bulbs and a vigorous cover of sweet woodruff (Galium odoratum.) Later I decided it needed something dramatic and threw in some variegated petasites which can be rampant in moist areas but stays controlled in this dry shade garden. Then I tossed in some heucheras and tons of hellebores. And then I added some Hakonechloa macro-aureola. That's about it. I admire the plants as I walk by to the more labor intensive areas. Even when nothing is blooming, the forms and textures and varying shades of green (with the occasional accent of purple and gold) look great. And best of all, other than keeping a watchful eye on the petasites, the plantings demand almost nothing from me.
I don't need to tell you about hostas because I did that a couple of weeks back. Easy to care for, long lived, colorful - just choose those with leaves of a good heavy substance and you will have few problems. But let's look at these other plants in my nearly-no-work shade garden.
I have two types of Dicentra (bleeding heart) D. spectabilis and D. eximia. If I had it to do again I would skip the D. spectabilis. It has larger leaves and showier flowers, but goes dormant in early summer - meaning it spends several weeks looking sickly. D. eximia has lacier foliage and smaller flowers - but they keep on going all summer - and the foliage stays green and healthy looking until autumn. It's hardy in zones 3-9.
Bleeding heart will seed around and so you may end up having to uproot baby seedlings - but that task is not so very dreadful. Hellebores will do the same and I find myself grateful for every seedling. I may never feel like I have finally accumulated enough hellebores.
The members of the hellebore all greatly resemble each other. Some, such as H. foetidus (zones 3-9) and H. argutifolius (zones 6-9 - I keep this one protected!) have green-white blooms. I love the way the buds of H. foetidus appear in the worst of winter - the first sign of hope in the garden. But my true loves are H. niger - the Christmas rose (zones 4-8) , and H. orientalis (now renamed H. hybridus), the Lenten rose. The names suggest their blooming time under optimal conditions.
My own Christmas rose often throws up a flower or two in January, but saves its real show for March and April- the same months that H. orientalis come into their own. When I see flowers I go out and cut off the foliage, which remained shiny and green through winter but start to look tatty in spring. Foliage gone, you can really admire the flowers - and new leaves spring up amazingly quickly. And the blooms seem to hang on forever. The flowers range in color from white through pink to purple along with many that are speckled in this color range. The colors start to fade by late May - but the flowers hang on and look quiet but elegant for months. Last year one of mine still had a solitary blossom hanging on in September.
They form seedpods even while the petals cling to the stem. In spring you will find little baby hellebore plants hiding under the new foliage. I allow mine to form colonies - but do transplant some to start new colonies of their own in other shady spots. Other than that, they are trouble free in my garden.
And what can I say about ferns? Lacy and lovely they have a form and texture that I hold responsible for the true loveliness of the shade garden. Some are tall and shaped like a vase or a fountain. Others swirl about , while some spread by runners and so seem to peek at us from behind other plants. Some are glossy, some matte; some are pale chartreuse and others deep holly green. Two that I especially love are the Autumn fern, Dryopteris erythrosora, (Zones 5-8) and Japanese painted fern, Athyrium niponicum pictum (zones 3-8).
The autumn fern is somewhat misnamed. It shows its autumnal-looking coppery fronds in spring when that color is scarce in the garden. Mine retain a bit of that color all summer and fall. The Japanese painted fern is truly distinct in the fern world, with its colors of gray and burgundy looking as though wood nymphs sneaked in during the full moon to paint their fronds and ribs. Both add color to the garden from spring through fall. And all they really ask of us is a bit of fertilizer once in a while. Truly low-maintenance plants.
Alchemilla mollis (Lady's Mantle, zones 3-8) is another no-brainer. Once again - it seeds a lot so you may have to spend a bit of time weeding. Other than that it's an easy plant, great for edging a bed. The foliage is crinkled in such a way that any rain or sprinkler drops that hit it sit atop the leaf looking like glistening diamonds. The flowers are chartreuse which sounds tacky - but in the garden chartreuse is a wonderful neutral - meaning it's easy to work into a garden design. You may want to deadhead this plant to save weeding later - but that's about all the work it will demand from you.
And what can I say about heucheras (zones 4-9)?? I love this plant! It comes in so many variations of foliage color that you can find one you love no matter that your color preferences are. First they were either green or bronze - now they come in many shades of purple and silver, near charcoal to near chocolate, as well as the newest advance - autumnal orange. There are several varieties with green and white splashed foliage that I would love to use to lighten up the shade - but every one that I have tried has been but a pale echo of the more colorful heuchera so popular now. And believe it or not - the spring leaves are edible, making this plant not only beautiful but useful.
All you need to do to make heucheras happy is to give them a site with good drainage. You may want to cut off the flowers - some are relatively nondescript. And they can use a haircut in spring to make way for the new foliage. Other than that they are very undemanding for such elegant plants.
When I first spotted Hakonechloa macra 'Aureola' in a catalog I knew I had to have it. This is noteworthy because I banned most things yellow from the garden. But the way the grass grew - arching forward like waves splashing toward shore - was such a powerful image that I couldn't think of any plant I had ever seen that could edge a bed so dramatically. And it positively sparkles when the light hits it. It really lights up the shade! Its only drawback is that it grows very slowly, so that it is fairly expensive if you want a plant that will have much impact the first few years. But to me it was worth it. And it has been the least demanding of all the ornamental grasses I grow - I never remember to cut it back in spring and it never seems to care. It's listed as hardy in zones 6-10 most places, but I've seen it listed as being hardy in zone 4 in others. Try it - but protect it if you live on one of those cold areas. And don't panic if you don't see it right away in spring - it is slow to emerge.
Nothing holds a planting scheme together better than a good ground cover - and Galium odoratum (Sweet woodruff- zones 3-8) is my groundcover of choice. First of all, it's economical. It spreads very quickly so a little goes a long way in a short time. But it is shallow rooted and so doesn't threaten other plants that may stand it its way. In late spring it blossoms forth with starry white blooms - and it stays evergreen all year in my zone 6 garden. Sweet woodruff can be dried, and gives off a vanilla-like scent then that is not detectable when it's still fresh and green. It was used in olden times as a strewing herb - sprinkled on the floors so that it would give off a sweet scent when walked upon. It is also a flavoring for May wine. Since it is so vigorous you may have to spend a bit of time pulling it up in places where it isn't wanted - but it pulls up easily so the task isn't too dreadful.
And finally we get to that variegated petasites. Petasites japonicum 'Variegatus' hardy in zones 4-9. I think I planted it just for an excuse to spend a bit of time in the shade garden. The woodruff keeps down the weeds so I need some excuse to spend a few moments gardening in comfort and this is it.
Most of the plants in my shade garden have fairly small leaves - the hellebores being the boldest. So I wanted to plant something in the area that would present a big, bold contrast. The leaves of petasites growing in a favorable habitat can be huge - 32" across or more. Bogs and streamsides are considered to be favorable. Mine grow in dry shade and so are considerably smaller - 6-7" across. And they do tend to seed about even there, so I am kept slightly busy removing them from spots there they aren't wanted. A word of caution - the variegated form is less rambunctious than the plain green - so avoid that one at all costs!
Normally I wouldn't recommend an invasive plant in an easy care garden - but the rest of these plants ask s little of me that I need some excuse to spend time there, to admire things, and to appreciate them. The petasites is that excuse for me. For others it may be violets, or ajuga. You need something like that or you are in danger of taking your very wonderful garden for granted.
But keep it at one. Because what you will appreciate most if you choose plants as easy as these is how simple it is to have a great looking garden without the usual aching back and calluses.