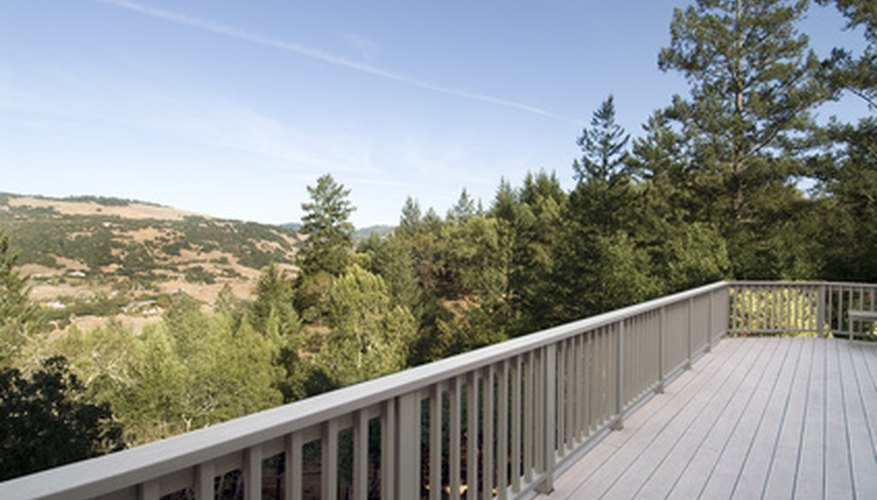 Decks that are not maintained properly deteriorate over time. If your deck is at the point of needing repair or replacement, many inexpensive repair methods can bring it back to new life. These repair options will extend the life of your deck by many years.
Cleaning
One of the easiest ways to fix unsightly or damaged deck boards is with a thorough cleaning. Use a mixture of 1 cup bleach in 1 gallon of water to brush across the boards of the deck. This will bleach away stains and restore the wood to a brighter color. You also can use a pressure washer to spray away stubborn stains and to give boards extra cleaning. If the boards have cracks or are damaged in any other way, the pressure washer may cause those pieces to break off. That is good because then you will be able to tell which boards need replacing and whether or not any boards have been damaged by bugs or have other problems. Old paint and stains can be removed with a paint remover or stain remover.
Repairing
If a board is bent, either on its ends or along its sides, but otherwise is in good condition, it can be removed and flipped. After removing its nails with a hammer, use a crowbar to pry the board loose. Then flip the board over and nail it back into place. Boards also can be repaired with sanding. A rough-grit sandpaper works best to sand down rough and uneven edges. You also can use sandpaper to soften hard or jagged edges caused by boards cracking or breaking. If the nails of some of the boards are loose, then they can be nailed down again or replaced with new nails or screws for a more secure attachment. Sagging boards can be fixed by adding a supporting board underneath attached to the deck joists.
Replacing
Some boards in the deck might not be able to be repaired and have to be replaced with new boards. New boards can be purchased from a lumberyard or home improvement store fairly inexpensively. The cost of a few boards is much less than that of replacing the whole deck. Cutting the boards yourself will save you even more money. After the boards are cut to the same size as the old boards, they can be nailed or screwed into place. Waterproof nails or screws work best. Staining and sealing the entire deck after repairs will make it look like new.