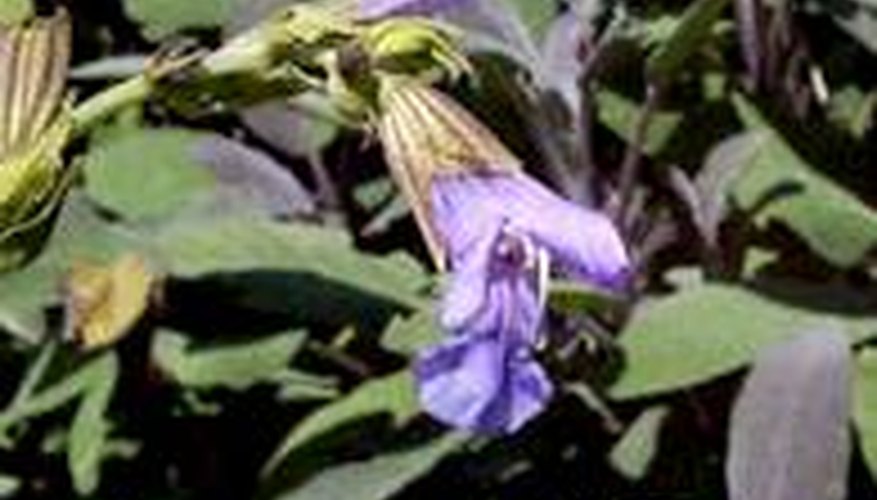 The Roman scientist and historian, Pliny the Elder, was the first to use the name salvia. The botanical word salvias translates to 'save' and expresses the innumerable and medicinal uses our ancestors devised for this plant. The common name for salvia is sage, which originated in England and is believed a corruption of the old French sauge.

Salvia officinalis 'Purpurascens'
When the word sage was used in medieval and renaissance Europe they were referring to salvia officinalis, which originated in the Mediterranian and is called the common sage. Some common varieties of Salvia officinalis are Purpurascens, Berggarten, Holt's Mammoth, and Tricolor. The Purpurascens was favored during medieval days for the medicinal and culinary rage of the time. The calyces and flowers range in the red violet to purple violet colors. Leaves vary from the Holt's Mammoth with its long, wide, gray-green leaves to the Purpurascens with it smaller, purple-red leaves. This cultivar likes quick draining soil and full sunlight and grows in a compact form, which fits nicely into the kitchen garden border. S. officinalis is hardy and can withstand temperatures of 0 degrees F. Just before blooming is the best time to collect leaves for drying, as the volatile oils are most concentrated. Purpurascens and Tricolor are my favorites for seasoning everything from winter squash to turkey stuffing.
Mexican sage (S. mexicana) has grown wild over a wide area in central Mexico as long as natives can remember. Its current habitat also includes arid subtropical regions in the north and tropical areas of the south. It is described as a shrubby perennial. In cultivation, Mexican Sage can grow to a height of 3 -9 feet and 3 - 4 feet in width. In our southern California garden Mexican sage thrives so well that we bind it with twine so it grows up where the hummingbirds get to it easier. It capitalizes the garden with its elevated, brilliant purple fronds from mid summer into late fall. The size and color of the calyces and flowers vary, ranging from purple-blue to midnight purple and even combinations of purple with a touch of white. The flowering fronds are beautiful and work well as summer bouquets accents. It is best grown in climates where temperatures do not fall below 20 degrees F. Propagate Mexican sage by seed or cuttings. Too much watering can make the branches brittle, so it needs some wind protection. All of the cultivars grow well under high tree canopies making them great under-story plants. I only grow this sage for it's beauty and because the hummers insist. It is not the tastiest of sages for culinary purposes.
Pineapple Sage (S. elegans) with its brilliant red flowers and dark leaves also originated in Mexico. This sage is prized for its pineapple scent and flavor, and its exquisite and long flowering scarlet flowers. Unfortunately, this lovely prize requires mild winters, good drainage, wind and sun protection, weekly watering, and prefers temperatures no lower than 30 degrees F. The good news is that it can be propagated easily by cuttings or division of rootstock and will produce a large, shrubby plant, growing rapidly and abundantly to 4 - 5 feet in height. The pineapple sage is great for cooking when you want a hint of pineapple flavor but not the pineapple bulk. It also sparks up a cool summer drink with that pineapple flavor without the acid of pineapple juice. The hummingbirds go nuts for this beauty.
Clary Sage (S. sclarea) originated in Europe and was known long before the birth of Christ for its essential oils. These oils are used in making perfume and in imparting a muscatel flavor to wines, vermouths, and liqueurs. Origins of the word sclarea means 'clear and bright' and clary is the English corruption of 'clear-eye'. The seed was known to clear the eye of impurities in olden days. Clary is classified as both a biennial and a perennial and is cold tolerant to 0 degrees F. The flowers range from violet, to red-purple to white. An early summer blooming herb, salvia sclarea can grow in a season from seedling to a plant of 3 - 4 feet. The leaves on this sage can be as large as one foot in length. Once the flowers start looking scraggly, trim them back and the plant will bounce back with more. This sage is not really good for culinary or cut flower purposes, but makes a stunning border plant if you can keep the pests from marring the large, very noticeable leaves.