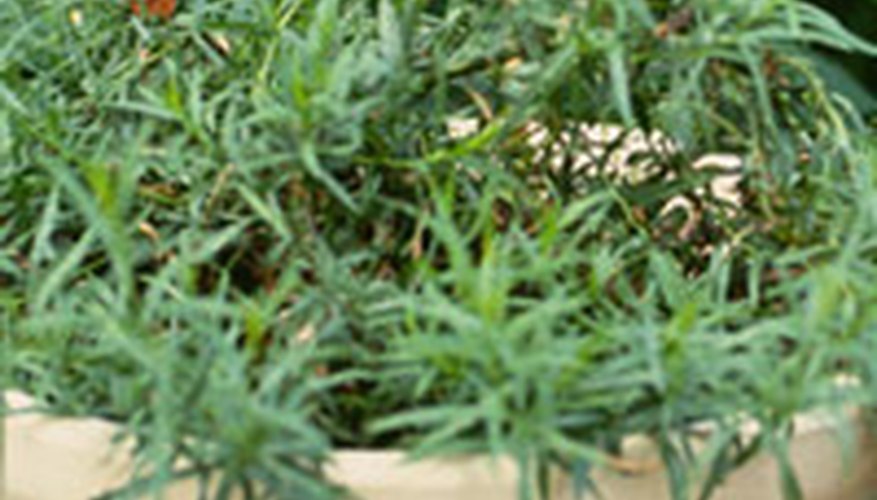 About French Tarragon
French tarragon is a sun-loving perennial that is native to the Caspian Sea area and Siberia. Now cultivated readily in the United States, Europe and Asia, French tarragon is an aromatic addition to gardens and a powerful herb when used in cooking (although a light hand should be used). French tarragon is a flowering, shrub-like plant with upright, branch-like stems and green leaves that are about 3 inches long. It reaches heights of up to 2 feet tall and can spread to 18 inches.
Site Preparation
French tarragon prefers rich, sandy, well-drained soil with a pH of 6.9 and can grow in full or part shade. Space plants 2 to 3 feet apart, and do not allow them to grow taller than 2 feet. Place a thin layer of mulch around the base of your French tarragon plant. Do not overwater your plant, as it is subject to root rot. French tarragon also can be grown in a large container.
Special Features
Known for its distinctly flavorful leaves, French tarragon has an anise-like flavor that complements fish, meat, poultry and sauces and is a wonderful addition to vinegar. Back in the day, French tarragon was used to treat snakebites, stimulate appetite and keep flatulence and colic at bay. Beyond that, it was believed to cure rheumatism and relive toothaches. When placed in the mouth and chewed, French tarragon does have a numbing effect. French tarragon is a good preservative due to its antioxidant and antifungal properties.
Choosing a Variety
Because the flowers of French tarragon are sterile, you'll need to purchase plants; plants must be reproduced by cuttings or thrive by division..
Planting
Turn earth to a depth of 8 inches. Dig a hole as deep as the container in which the plant is growing and a few inches wider than its diameter. Plant French tarragon in full sun in rich, well-drained soil with a pH of 6.9. Place mulch around the base of the plant. Water, but be cautious not to overwater during the growing season.
Care
Prune the plant to prevent flowering, and do not allow your French tarragon plant to exceed a height of 2 feet. Divide the plant every 3 or 4 years.
Harvesting and Storage
Typically, 2 large harvests will come from French tarragon starting the second year. The first cutting should take place when the plant is between 8 and 10 inches tall; simply cut the entire plant with a scissors to 2 inches above ground. * Although it can be dried, French tarragon quickly loses its flavor. Your best bet is to use harvested French tarragon within 10 days. * In between harvests, leaves can be snipped in small quantities with a pair of scissors. * During fall, French tarragon plants should be cut down and covered with mulch to protect them from frost.