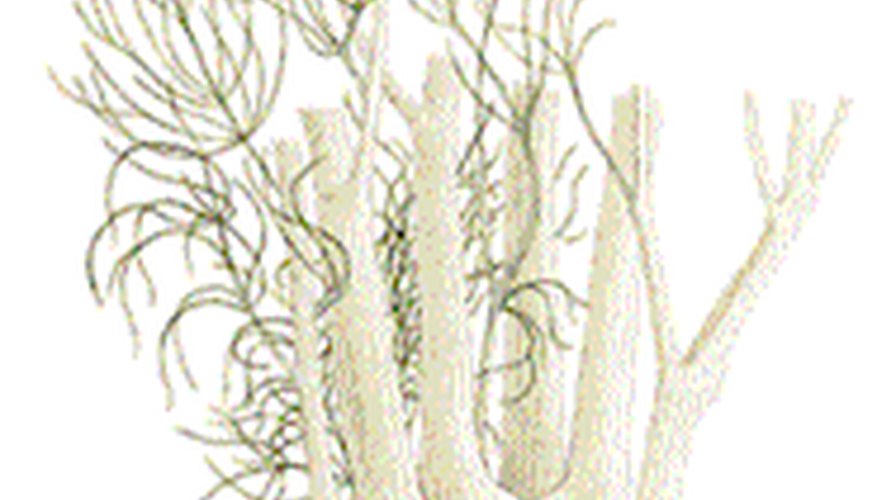 by Christina Francine
Looking for a multi-purpose herb? One to grow for looks in the garden, one that can attract butterflies, beneficial insects, and birds, one that tastes great, that contains medicinal properties and can also help your pet? What herb is able to do all this? It's a tall order, but the fabulous, feathery fennel can fill it. In fact, the sweet and bronze variety may grow to six feet tall. He's a big fellow for a tall order.
Profile
Family: Parsley/Carrot
Genus and species: Foeniculum vurlgare, F. vulgare dulce (F. officinalis)
Other names: Finocchio, Carosella, and Florence fennel
Parts used: The entire plant is edible, only the seeds and their essential oil are used medicinally. The seeds are collected in August and September when they are ripe and then dried.
Physical Profile: Fennel is tall; growing 2 to 6 feet, it's also hardy with a thick taproot and hollow stems. The feathery leaves are formed of bright green thread-like leaflets. The flower is flat umbel of tiny yellow florets.
Varieties: There are three common types:
Sweet Fennel - Height: up to 6 feet. Grown for its licorice-flavored seeds and leaves.
Bronze Fennel - Height: up to 6 feet. Striking for use as an ornamental. Especially effective as a perennial. Zone: 4 to 9
Bulbous, Finacchio, or Florence fennel - Height: about 2 feet. This type is more the annual type and grown for its enlarged stalk which resembles and anise-flavored succulent celery bulb. It can be eaten raw as a salad herb or cooked and served with oil, butter or sauce.

Cultivation
Fennel will be glorious to the eye. If you want to start the seeds yourself indoors you will be pleased at how readily they germinate, especially the sweet and bronze. Plant the young plants outdoors after danger of frost has gone. This herb will grow in most soils in an open situation and self-sow freely. Do not plant fennel next to dill, as they tend to cross-pollinate or plant next to beans or tomatoes.

Fennel grows best in full sun with plenty of water and good drainage. Spaces plants 1 foot apart and remove spent flowers to reduce number of volunteer seedlings. Cut plants to ground after frost. To grow the Florence variety, space the plants so they have plenty of room. About mid-summer you will notice that the herb has developed yellow to green flower clusters in which a number of flower stalks, nearly equal in length, spread from a common center. These mature into seed heads. Expect to enjoy the flowers from June through October.
Butterflies & Birds
Fennel is a favorite of caterpillars from the anise swallowtail butterfly. The female lays her eggs on all parts of the herb, and as the eggs hatch, the plant is eaten. You will find many varieties of butterflies visiting your fennel for its delectable nectar. This herb is also a favorite host plant for ladybugs and other beneficial garden insects. TIP: The dried plant is an insect repellent.

When fennel starts to go to seed watch for tiny zesty-spirited songbirds such as the Bushtit. These feathered friends visit for the seeds and to gobble any insect that dare to venture onto the plant. NOTE: If you plan to use the seeds yourself, be sure to collect them before the birds do. Maybe you can plant extra, and then you both are able to enjoy this fruit.
Culinary
The entire fennel plant is edible, only the seeds and their essential
oil are used medicinally. Collect the seeds in August and September when they are ripe and dried.
Fennel contains these nutrients: Calcium Magnesium, Phosphorus, Sodium, Folic-acid, Vitamin C, Potassium, and Phytoestrogens.
Remember that fennel has a subtle anise-like flavor and scent. Uses as a spice:
Widely used in Italian sausages, baked goods and sweet-pickles.
In cookies and some bread (Stir into yeast dough and sprinkle on baked goods before baking).
In some beverages.
Use seeds in a hearty fish soup.
Nibble seeds for a breath freshener.
Grind it and add to meat mixture for meatballs with spaghetti sauce.
Rub on pork before roasting.
Sprinkle lightly on pepperoni pizza.
Before cooking, all leaves and any very tuff outer stalks should be removed for the Florence variety.
Recipes
Three Seed Tea

Three seed tea is a pleasant tasting, soothing tea that helps alleviate constipation, upset stomach, gas, and coughs and serves as a mild blood cleanser as well. Preparation Time: 20 Minutes. Yield: 3 Cups.

1 tsp. Fennel seeds
1 tsp. Fenugreek seeds
1 tsp. Flaxseeds
3 cups water

First, gently simmer fennel, flaxseeds, and fenugreek in the water for 15 minutes. Next, strain and drink.
Fennel In Casserole Casalinga
Yield: Serves 6

2 bunches fennel
6 Tbsp. Oil
2 crushed garlic cloves
Salt and pepper

Drop the fennel into a large pot of lightly salted boiling water and cook for 10 minutes. Drain and cut into 2" pieces. Heat the oil in a large, shallow casserole over medium heat, add the garlic, and cook until the garlic begins to color. Add the fennel, ¼ cup water, season with salt and pepper, cover, and braise gently for about 40 minutes, or until it is very lightly browned and tender. Serve in the casserole.
Medicinal Uses
Fennel is beneficial in various medicinal ways. It is anti-spasmodic, relieves intestinal cramps and stomach pain. It also seems to help during menopause, be beneficial in the aid of digesting fats, useful in weight control possibly because fennel may help take away hunger pangs, said to soothe sore eyes when bathed with fennel, buffer laxative blends, increase lactating mother's milk after child-birth, and in use as a compress when the seeds are crushed for conjunctivitis. Some say fennel has helped to reduce a stuffy nose when you have a cold. Its leaves are cleansing and gently astringent.
As a digestive aid chew a handful of the seeds or take an infusion or tincture.
When used as an infusion or tincture it can bring on menstruation, help with abdominal cramps, and as a possible aid in the treatment of prostrate cancer. Be sure to be under your Doctor or herbal practitioner's care.
To use as a tea to help digestion use 1 to 2 teaspoons of crushed seeds per cup of boiling water. Steep for 10 minutes. Drink up to 3 cups a day.
Medicinal Uses for Fennel Essential Oil:
Fennel as an essential oil is sweet and warm. It is extracted by steam distillation of the squashed seeds.
For abdominal craps use 1 to 2 drops of the essential oil, a teaspoon of honey and a cup of warm water
For hiccups take 1 to 2 drops with sugar
It has been used in creams or body lotions to tighten and enlarge breasts.
When added to body lotions fennel acts as a moisturizer.
Used in the bath or aroma lamp, fennel oil has a great calming affect. For a great stress relieving scent try mixing fennel, rose, and sandalwood oils.
Fennel oil helps neutralize toxicity in the body so it is great for use after drinking too much alcohol or in smoking. Use 1 to 3 drops, diluted, two or three times a day.
In laboratory studies, fennel oil was found to increase movement of the stomach and counteracted spasms of the smooth gut muscles. This may be why fennel has received a reputation of helping with flatulence/gas/ "letting go of the wind."
One study showed the volatile oil aggravated chemical liver damage, but recent research shows that a compound in fennel, anethal, protects against chemical toxicity.
Pets & Fennel
Fennel will help keep fleas from dogs, but it needs to be used before the animal obtains the tiny pests. It doesn't seem to work very well afterwards.
Origination, History and Lore
Originally, fennel came from the Mediterranean. It is one of the oldest known cultivated herbs. Roman warriors took fennel to stay in good health. The Roman naturalist, Pliny included fennel in 22 remedies. The Emperor Charlemagne ordered the herb cultivated in all his imperial gardens.
The ancient Greeks called fennel marathon. It grew wild around the village of Marathon, about 25 miles from Athens, where the Athenians defeated the Persians in 490 B.C. A long distance runner brought news back to Athens, and his athletic endeavor inspired the day's marathon races. Hippocrates prescribed fennel to treat infant colic.

Fennel was a prized vegetable in the Middle Ages and American Colonists brought fennel to North America where it is still used and appreciated today. It grows wild throughout the United States.

Satisfy all five senses with fabulous fennel. Enjoy its glorious appearance along with that of the butterflies and birds that come to visit. Run your fingers along the feathery branches, maybe even pick some and run it along the bottom of your foot or a special friend's. Listen to the birds and insects attracted by the herb, and to the gentle breeze easing its way through the leaves. Taste the striking anise flavor from eating a couple of seeds. The flavor is pleasant and soothing. Breathe in the aromatic licorice-like scent.

Go ahead, request a lot from this tall herb, fennel, he won't disappoint you.
Warnings & Precautions
In the wild, fennel may be confused with poison hemlock, which can cause death. Do not gather wild fennel unless you know what it is.
Get advice from your doctor before using, if you are pregnant, especially before using the essential oil. Usually fennel tea from the seeds is believed safe.
Fennel has a mild estrogenic effect. Do not use if you're doctor advises you against using the Pill, or if you have a history of abnormal blood clotting or estrogen-dependent breast tumors.
Fennel is included in the FDA's list of herbs generally regarded as safe.
Do not use in medicinal amounts before consulting your doctor or herbal practitioner. Stop using fennel if you experience minor discomfort.
If you are allergic to celery, carrots, dill, or anise you shouldn't use fennel.
Fennel can trigger photo toxicity and dermatitis from much handling. Be extra careful if you are subject to exaggerated sunburn or rash from sunlight exposure.
Sources/Recommended Reading
A Superguide to HERBS and Medicinal Plants, By: Madge Hooper, Published by: Kingfisher Books, 39 pages, Copyright: 1989.
Complete Aromatherapy Handbook- Essential oils for Radiant Health, By: Susanne Fischer-Rizzi, Published by: Sterling Publishing Co., Inc., Illustrated by: Peter Ebenhoch and Gunter hartmann, 239 pages, Copyright: 1990.
Great Italian Cooking (La Grande Cucina Internazionale), By:Michael Sonino, Published by: Abradale Press, Inc., Copyright in Italy by Garzanti Editore, Milan 1965.
Growing Herbs and Vegetables- from seed to harvest, By: Terry & Mark Silber, Published by: Alfred A. Knopf, Inc.
Herbal Remedies For Dummies- A Reference for the Rest of Us! By: Christopher Hobbs, L.Ac., Fourth generation herbalist and teacher. Published by: IDG Books Worldwide, Inc., Copyright: 1998.
1998 Natural Healing- Remedies How to Guard Your Health, Boost Your Immunity, and Banish Fatigue, Edited by: Doug Dollemore, PREVENTION. Health Books, Published by: Rodale Press, Inc. Emmaus, Pennsylvania, Copyright: 1998.
Taylor's Guide to Growing North America's Favorite Plants-Proven Perennials, Annuals, Flowering Trees, Shrubs, & For Every Garden, By: Barbara W. Ellis, Published by: Houghton Mifflin Company, 342 pages, Copyright: 1998.
The Food Doctor- Healing foods for mind and body, By: Vicki Edgson DipION & Ian Marber KipION, Published by: Collins & Brown Ltd., 160 pages, Copyright: 1999.
The Healing Herbs- The Ultimate Guide, By: Michael Castleman, Published by: Bantam Books by arrangement w/Rodale Press, 641 pages, Copyright: 1995.
The Herbal Home Spa- Naturally Refreshing Wraps, Rubs, Lotions, Masks, Oils, and Scrubs, By: Greta Breedlove, Published by: Storey Books, 201 pages, Copyright: 1998.
The People's Pharmacy Guide to Home And Herbal Remedies, By: Joe Graedon and Teresa Graedon, P.H.D., Published by: St. Martin's Press, Copyright: 1999.
About the Author Christina Francine is the owner of Sunshine & Rainbow Gardens of Sinclairville, New York. Her shop offers all natural, pesticide free, herbal products for the skin, such as herbal soaps, bath-bombs, hand and face creams. Francine is a contributing writer to Botanical.com
E-mail the author at jcsprecipice(at)hotmail.com