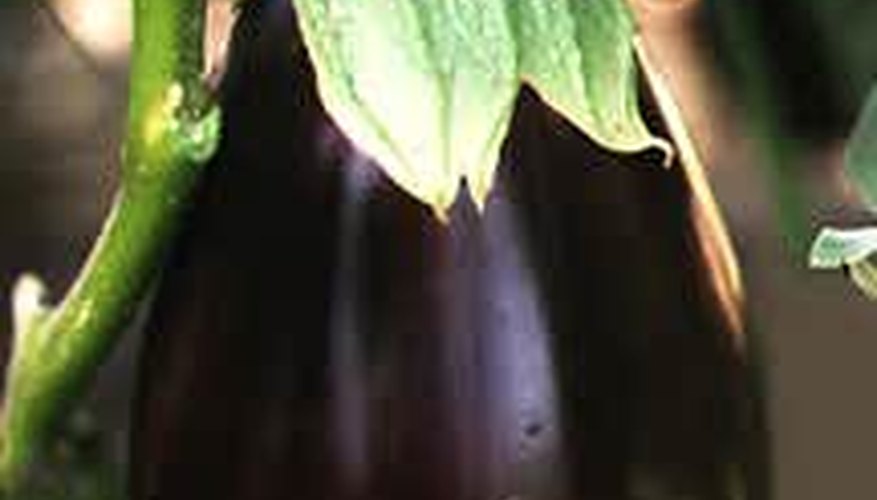 Eggplant is a tender vegetable that is related to the tomato. The bushes grow 5 feet tall with hairy gray-green leaves. The fruit varies is size, shape and color.
Plant Requirements
Eggplants need warm soil and warm temperatures. Temperatures should remain above 68 degrees. Full sun is a must.
These heavy feeders should be planted in heavily composted soil with lots of manure, if available. Side dress frequently, especially when the plant begins to bloom.
Eggplant is fairly drought tolerant and should not be overwatered as it is susceptible to root rot. Mulching around the plant will help maintain even moisture. Watering may be increased when blooms appear.
Planting
Plant after the ground has warmed and all danger of frost has passed. Seeds should be started indoors at least 8 weeks before transplanting. Place transplants in the garden slightly deeper than they were in their pot. Cold soil will shock the plant and set it back several weeks. In case of an unexpected late frost, cover young plants with hotcaps or milk jugs.
Add a tablespoon of balanced fertilizer. Eggplants don't need or like much fertilizer, so don't don't overdo it. It's a good idea to fertilize again when buds or tiny eggplants appear, but keep it light.
Eggplants are suitable for growing in large containers or tubs. Container growing will help prevent soil borne disease.
Harvesting
Your eggplants will taste best when young. Start harvesting when the fruits reach 1/3 their full growth. They are ready once the skins turn glossy. Once the outside skin turns dull they are past their prime and will contain lots of seeds. Cut the stems with a sharp knife to prevent damage to the vine.
Pests and Diseases
Eggplant is a delicacy for insects. Here in the Southern United States, it's not unusual to set out transplants, and find that two days later all that's left is the stems (if that). It's a good idea to spray with an herbal insect spray when transplanting.
Aphids, spider mites and caterpillars are the main culprits.
Leaf Spot and Fruit Rot are funguses. Providing full sun and good aeration go a long way toward preventing these diseases. If you find these funguses you may want to plant resistant varieties next year.
Recipes
Roasted Eggplant Spread
Roasted Eggplant with Garlic Puree
Oriental Eggplant Salad
Mediterranean Vegetables with Tahini
Iman Bayildi
Cook's Tip
To prepare eggplants for cooking, sprinkle cut slices with salt and allow the juices that form to drain away in a colander. After 30 minutes or so, rinse well and pat dry. The eggplants will be less bitter and easier to cook.
Internet Link