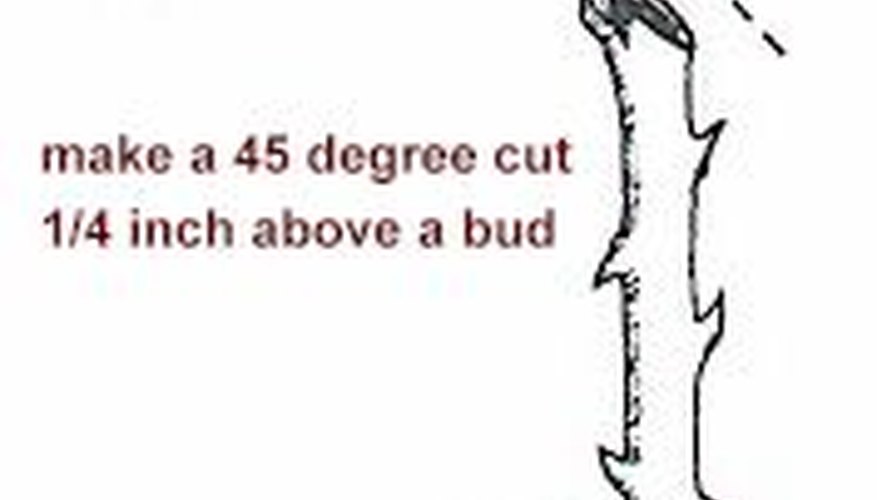 for more information on growing roses see Roses by Neil Moran
Begin by removing leaves that have fallen to the ground around the plant and any foliage still attached to the stems. This will reduce the chances of disease. Apply a light feeding (preferably 0-10-10) around each plant and water well. Prune to 1/2 their height and tie the canes together with twine. In areas where winter temperatures don't go below 20 degrees F, no winter protection is required for most roses. In areas with colder temperatures, start your preparations just before the first hard freeze. Most of the newer shrub roses as well as many of the floribundas and miniatures don't need winter protection, so the following guidelines are most applicable to hybrid tea and grandiflora roses, as well as for any other rose varieties of questionable hardiness. (If in doubt, protect it.)
IF WINTER TEMPERATURES DROP TO 0 DEGREES F The base of each rose must be protected by an 8-inch mound of soil (imported from another part of the garden), coarse compost, leaf mold from a 1 year old pile, shredded bark, or other organic material. This protection will have to be removed in the spring.
IF WINTER TEMPERATURES DROP BELOW 0 DEGREES F Increase the mound size to 12 inches. The 12 inch mound can be covered with another 8-10 inches of loose mulch, such as pine needles, oak leaves, pine branches, or straw. If winds are severe top the pile with baskets or other coverings.
LARGE-FLOWERING, REPEAT-BLOOMING CLIMBERS If temperatures drop below -5 degrees F these roses will need special care. Remove the canes from the supports and lay them on the ground.Cover the entire plant with soil or mulch.
Pruning Roses
When you remove your winter protection in the spring, give your roses a good pruning. Cut at a 30 to 45 degree angle just above a bud eye. Have the cutting blade of the pruning shears on the lower side of the cut.
Light pruning gives you many small flowers, while a heavy pruning will result in fewer but larger flowers.