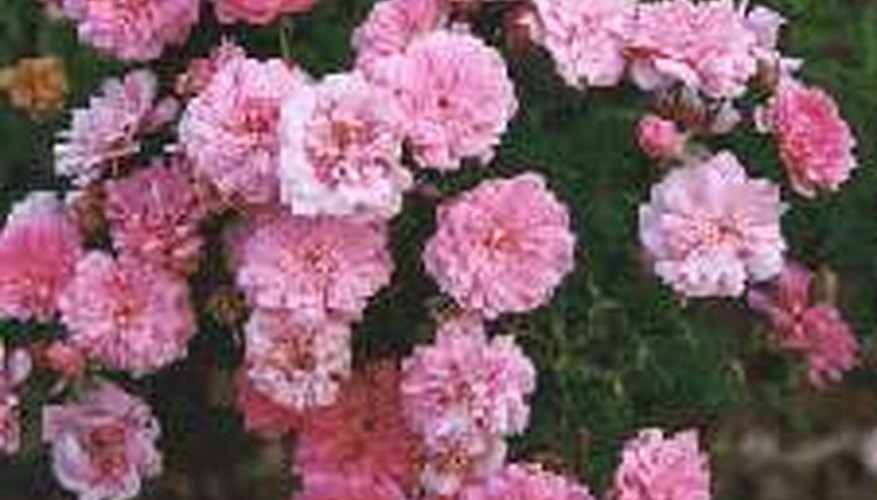 by Mark Whitelaw
Some of us here in the South have been plagued with heat and drought since the spring. Our roses, unaccustomed to such conditions, have suffered greatly. One rose, however, stands tall as a survivor among the rest - withstanding the ravages Nature doles upon the garden, blooming on schedule, and performing its "duties" like the trooper it is.
I'm speaking of "Caldwell Pink", a "found" Polyantha rose arguably identified by some rose experts as the China known as "Pink Pet." Very little is written about "Caldwell Pink" and even less is written about its excellence as a landscape ornamental for southern gardens.
When long, lost antique roses are rediscovered, they are commonly given a study name until such time as they can be re-identified by their true name. Such "found rose" names may be used to identify the location where they were found or the gardener in whose garden they were discovered. Names like "Highway 290 Pink Buttons," "Katy Road Pink," "Old Gay Hill Red China," and "Pam's Pink" are common in the antique rose world. If the rose is subsequently identified correctly, its study name reverts to the registered name.
Sometimes, however, the true identity is never found. The rose is subsequently re-registered with the "found" name. "Martha Gonzales," a China rose found in the gardens of Sra. Martha Gonzales of Navasota, Texas, is such a rose - re-registered with the IRAR under its new name in 1994.
The study name "Caldwell Pink" comes from its discovery location. Dr. Bill Welch, author of Antique Roses for Southern Gardens (Taylor Publishing: Dallas; 1990; $29.95, hardcover), writes,
This rose was a gift from Mrs. Webb, who operated a small nursery in Caldwell, Texas, several years ago. It was growing in her garden as a gift from a Somerville friend who had had it in the family for many years. I was fascinated to observe that this rose was an exact copy of a climber given to me by Angela and Jerry Fannin from Jerry's grandparents' home in Madisonville, Texas, except that their rampant climber bloomed only in spring, and "Caldwell Pink" reblooms all season and is a bush.
Regardless of it's true identity, "Caldwell Pink" is a survivor! Although it is late to bloom in the spring, when it does finally pop out, large clusters of two-inch, lilac-pink blossoms adorn disease- and pest-resistant foliage. The shrub form remains compact and grows to 4 ft. (1.2 m), although I have seen one "mother plant" specimen as tall as 7 ft. Since I "hard prune" my specimen, it remains 2 - 3 ft. The climbing sport counterpart grows to 12 ft.
The rose blooms continuously from mid-spring until killing frost in the fall, although the climber blooms only once in late spring. And as the first cool nights of fall approach, the foliage turns autumnal gold and purple to further add color to the garden. These characteristics make "Caldwell Pink" an excellent and versatile addition to the garden landscape.
The rose is very cold hardy (rated to USDA Hardiness Zone 6, or -10°F/-23°C). It is also very heat and drought hardy. In my garden, it prefers full sun and ample air circulation. It is also situated between two limestone walks that reflect the intense rays of the summer sun. It handles these extremes with ease and grace - continuing to bloom month after month.
If "Caldwell Pink" has any downsides, they are few. Fragrance is very slight - typical of Polyanthas (and atypical of Chinas). Likewise, the blooms are long lasting and sometimes remain too long on the plant - failing to fall cleanly to the ground (also atypical of Chinas). Deadheading spent blossom clusters improves appearance and rebloom.
The argument of Caldwell Pink's true identity continues to this day. But does it matter? As the "Bard from Avon" might have written, "A rose by any other name would smell as sweet or perform as well in the heat and drought."