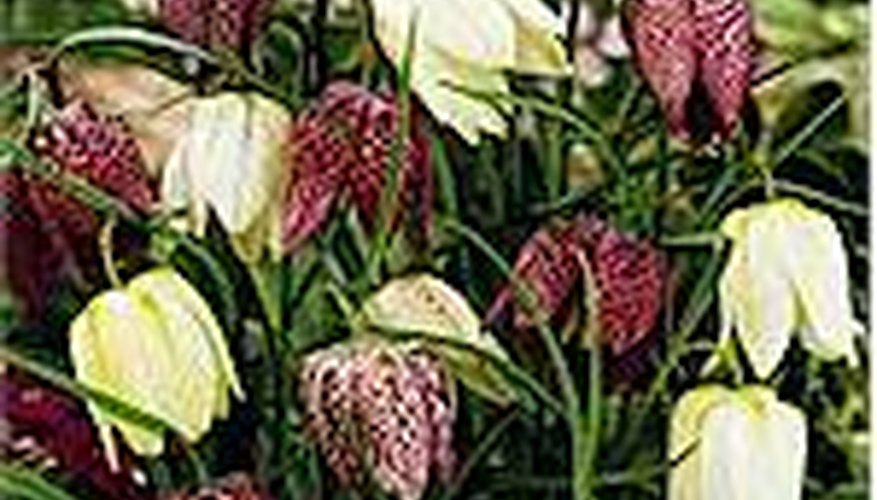 It's easy to see why the majestic Crown Imperial is the most popular of the fritillarias. The ring of brilliant red, yellow or orange bell-shaped flowers that appear in mid spring sit atop a leafless, 3' to 4' stem, and wear a "crown" of upright leaves. The effect is stately and imposing.
Don't let the exotic appearance of these flowers fool you - they are very easy to grow. Choose a site for your fritillaria carefully because once established they don't like to be moved.
The bulbs have a pungent odor, so don't plant them near a window where you like to enjoy a breeze. The odor is a natural deterrent to rodents, making fritillaria a great choice for areas where you've had trouble with rodents in the past. The plants are also resistant to deer.
Fritillaria prefer a well-drained, loamy soil, but most any garden soil will do. They will tolerate full sun or part shade. A lightly shaded sheltered area is perfect. Plant the bulbs 4 to 5 inches deep and 6 inches apart at a slight angle so that water won't collect in the depression at the top of the bulb. For planning purposes, keep in mind that fritillarias bloom simultaneously with tulips.
Fritillaria are relatively care free. You should remove the flower head after the blooms fade and before it goes to seed. Allow the foliage to wither naturally each year in order to replenish the bulbs for the following year's blooms. Water the plant regularly and deeply in the spring until after it flowers, then withhold water in the summer. Fritillaria is a good choice for areas with dry summers.
Checkered Lily
(Guinea-Hen Flowers)
One member of the Fritillaria family that isn't often seen in the garden is the Checkered Lily. These unique, low-growing plants have a checkered pattern on their petals. They are European natives and thrive in California and other western states, but they don't care for eastern climates where they will be difficult to overwinter.
Black Fritillaria
(Fritilaria persica)
Black Fritillaria originated in the Middle East and is now considered an endangered species. The plant produces bell-shaped, dark purple blooms along a sturdy stalk that grows to about three feet in height.